Printer App Technology that Saves Time and Money
Printer | Technology | Xerox
Using apps on your tablet or mobile phone makes life easier. Whether you're checking a weather forecast, booking reservations, or shopping at your favorite retailer, apps make it simple to get in, get out and get it done. Just as your smartphone has become your personal assistant, your multifunction printer (MFP) can now be your workplace assistant.

Xerox®'s ConnectKey®
technology allows you to download apps to any ConnectKey enabled MFP easily, and just like today's smartphones, apps can be customized to the specific needs of your business. Whether you need to scan to a cloud-based repository or translate and print documents with the touch of a button, ConnectKey has an app for that.
Work from Anywhere – Flexible and Seamless Connections Between Mobile Devices and MFP's
Employees on the move or working from remote offices need to access and print documents anywhere, at any time, on any device. Xerox Mobile Link app allows you to easily connect your mobile phone or tablet to your Xerox MFP without a network connection. From there you can simply scan and send the document to a virtual print portal for printing at any location. Moreover, as more companies continue to use cloud-based services like Google, Drive, Dropbox, Box, OneDrive and Office 365 to store and share files, it is now easier than ever to print from, and scan to, the storage repositories you already use. This helps everyone get on the same printed or digital page.

Your MFP has access to a series of productivity-boosting applications that can be downloaded easily from the Xerox App Gallery. These apps extend the capabilities of your MFP and help you make the most of your hardware investment without the need for a dedicated server, PC or IT resource.
Opening Up New Possibilities
Individual apps can be created to remove repetition and complexity out of everyday operations. Whether it's scanning invoices, expense reports, customer details or just sending an email, ConnectKey Apps allow you to place commonly used workflows to the top level of the user interface for a truly simplified experience shortening everyday tasks.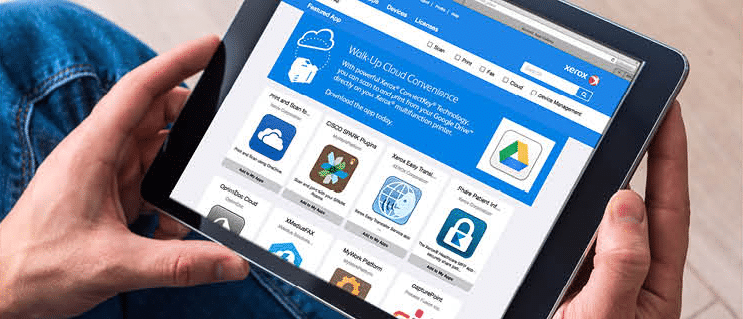 One of the many advantages of the App environment is that it's continuously growing and evolving and Xerox encourages developers to create new apps on its platform. Newly developed apps are then shared with any business that has the ConnectKey framework. This technology ultimately can transform your printer from a simple machine into a virtual office assistant, If you'd like to learn more about Xerox ConnectKey, click here.