3 Ways Technology Can Support Your Company's Return To The Office
Digital Signage | Interactive Displays | Pro AV | Security Solutions | Temperature Scanning Kiosks
There comes a time when your business needs to decide on which infrastructure model to adopt for its operations: on-premises or cloud.
Will your company rely on a more traditional on-premises or a cloud-based infrastructure to carry out business operations?
Maybe you never realized you had an option between the two, and you now realize that an on-premises solution no longer meets your needs.
Regardless of how you got here, you're looking to explore your options, and we're here to help.
We get it. It can be tricky making a significant change regarding your infrastructure when you have a business to oversee.
At LDI, we have implemented cloud solutions for clients with on-premises infrastructure and those with a cloud infrastructure. Neither one is wrong to implement. We recommend solutions based on your current business needs, budgetary requirements, and long-term goals as a company.
As an independent technology provider, LDI works with clients to identify technological solutions to support their needs. As most companies reopen, LDI has helped customers assess and optimize their current office environments and technology.
This article will identify three ways technology can support your company's return to the office. We will also cover if upgrading your current office technology is necessary. By the end of this article, you will have learned how technology can enhance your business operations at the office.
3 Ways Tech Can Support Your Company's Return To The Office
While the world of technology is vast and made up of many parts, there are key ways that it can help support your company's migration back to the office. For more than a year, most companies have had unoccupied offices filled with unused technology. It's now time to unearth ways of optimizing your office technology while keeping your employees safe and productive.
Let's dive into three key ways technology can best support your business.
1. Temperature Screening
Temperature screening ensures the safety of your employees. Placing a temperature kiosk at the front of your office is a good idea in monitoring those who enter and leave.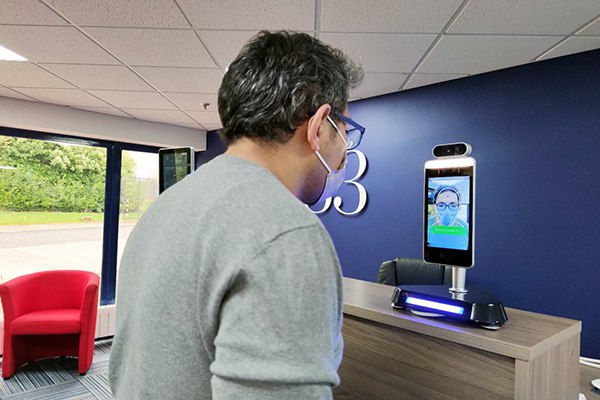 Why? Well, temperature kiosks are FDA-cleared, automated, touchless clinical thermometers that can screen the body temperatures of employees and guests before entering and leaving the office.
Temperature kiosks use thermal imaging cameras to detect elevated temperatures. Temperature kiosks can be configured to track and record the date, time, name, and temperature of an individual.
Additionally, they can perform mask detection where that requirement exists and record the temperature of the individual.
2. Helps Enforce Social Distancing Protocol
Technology can help serve as a reminder and a monitoring tool used to ensure that your employees are not crowding one given area at a time.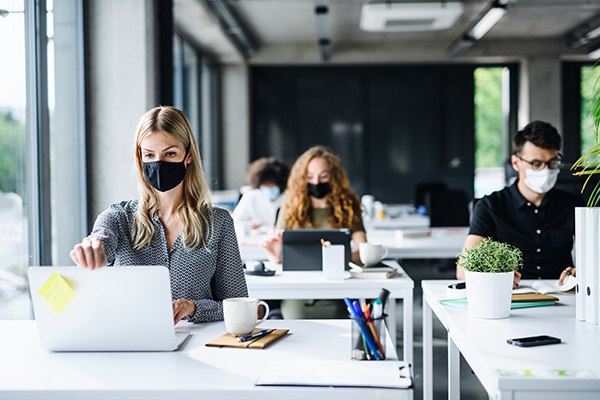 Digital display technology can communicate office policy and messages. It can be updated as much or a little as you want and stands as the perfect reminder of what distancing protocol is being enforced in the office.
For example, let's say you want to let employees know that only two people can be in the kitchen at the same time. You can write out the reminders for the week and schedule them to be displayed on your monitor of choice.
Another helpful example may be reminding your employees to wear their masks if they are not vaccinated. Digital signage can help enforce rules that employees may have forgotten or allow them to be more mindful of their coworkers.
In addition, surveillance technology such as security camera systems can help keep track of all employee behavior within the office. Real-time surveillance can help monitor employees or guests; ensure that employees are abiding by proper social distancing etiquette and are not overpopulating one shown place in the office.
3. Improves Communication
COVID-19 has accelerated and has popularized the use of unified communications to remote communication and collaboration. Single platforms such as Microsoft Teams, Zoom, and LDI Elevate, have helped companies stay connected when everyone was forced to be apart.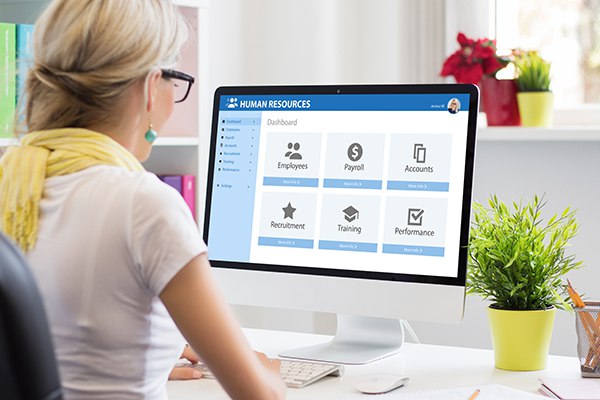 While working remotely forced employers and employees alike to adapt to an online way of communicating to complete tasks and meet deadlines, the question becomes, is it still necessary now that people return to the office?
The short answer is yes. These platforms enhance business operations by providing an easy, user-friendly, streamlined way of enabling employees to call, message, hold a video conference, share a document, schedule meetings, and eliminate travel to move from one meeting to another.
However, returning to the office will mean that many meetings can occur in person rather than through a video conference on any of the new platforms that are available.
A major perk of utilizing a unified communications tool is the surplus of options that are built into the platforms, whether in the office or home. Depending on the platform, these may include recorded meetings, file sharing, voice transcription, and event ticklers. Employees can use both online and in-person interactions to serve their business needs better.
Luckily, these platforms have proven effective and reliable during the pandemic and continue to provide meaningful strategies as we begin the transition to whatever the new hybrid working environment will be on any given day.
Is Upgrading Your Workspace's Technology Necessary?
Most companies quickly deployed ways to access files online and use new unified communications platforms to stay in business. Companies now have to decide if the quick fixes fit the needs of their business, employees, and customers to successfully transition to whatever the new working environment will be.
So now that employees have proven to be productive while remote working, will you need to upgrade your office technology? Yes and no.
Simply, each company needs to evaluate its environment and decide which technologies can be used to transition employees back into a safe and productive setting.
COVID-19 accelerated a digital transformation in the way people work and definitely shined a light on the need for technology to help employees work effectively, collaborate and share information, whether from home or from the office.
Ready For Your Company To Return To The Office?
If your company is looking to reopen, then taking precautions that are touchless and tech-enabled is essential. Reconsidering your office technology can help better serve your employees, improve their productivity, and may even provide some cost benefits.
At LDI, our account managers, experts, and certified specialists are trained and happy to discuss how managed print, cloud communications, managed IT, pro-AV and security solutions can enhance the working environment in your business, whether that experience occurs at your office or home.
Reach out to an LDI representative today to learn more about ways different technology can help your company return to the office.