How Can Technology Keep Schools Safe As They Reopen? (Types & Benefits)
Card Access Systems | Digital Signage | Education | Pro AV | Reopening | School Safety | Security Solutions | Surveillance Cameras | Temperature Scanning Kiosks

Safety for school environments has taken on a whole new meaning in the last year and a half. Keeping students, teachers, and faculty safe in schools now involves ensuring that CDC Guidelines and safety protocols are enforced and followed to stop the spread of COVID-19 and the new variants as schools begin to reopen.
Technology provides a unique opportunity to keep schools safe and can have tremendous benefits to the students attending and those working at the school. The tricky part is understanding which technologies to choose and how to operate them to get the most out of them.
As a managed services provider with over twenty years of experience, LDI works with various schools, educational facilities, and training centers, interested in finding a technology solution to keep their environment safe. First, we identify our customer's exact safety needs and goals and then recommend solutions such as secure card access systems, surveillance technology, and more; to secure your entry, information, employees, and overall environment.
This article will examine how different technologies can keep schools safe as they reopen and their benefits. By the end of this article, you will have a better idea of what technology to include in your school's environment and how they can best benefit the safety of the students, teachers, and faculty.
4 Types Of Technology That Can Keep Schools Safe Post-Pandemic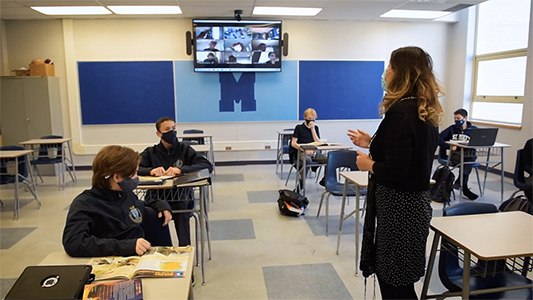 Technology is a critical aspect of keeping schools safe.
The following four types of technology that we'll explore in this article can be customized to capture, retrieve, and deliver the essential information for your school's needs.
1. Temperature Kiosks
Contactless temperature kiosks are hopefully just going to be necessary for the short term, and are great for fever screening and monitoring the temperature of any student, teacher, faculty member, or guest that enters the school.
Having a no-touch solution like a temperature kiosk placed in a school entrance can effectively detect an elevated body temperature while notifying the entrant, security, and admin of your choice to stop the person from entering the school.
Most temperature kiosks come equipped with a camera and temperature sensor, facial, and mask recognition. Facial recognition and mask detection are features that can match a person's face with a particular photo and profile, and can be turned on or off in accordance with the school's guidelines for confidentiality and governance.
In addition, temperature kiosks can be enabled to easily track the person's name, temperature, date, and time. This information log can then be accessed and monitored by a school administrator through a central dashboard on the school's network.
A temperature kiosk that automates the overall temperature screening process can be one of your most useful tools for contact tracing in the event that containment is required.
2. Digital Signage
Digital signage, sometimes referred to as electronic signage, is essentially a digital information display that can be used to display and convey particular messages to those who see it. These digital signs use LED, LCD, and projection technologies to showcase content that ranges from digital images, video, PowerPoint slides, bullet points, and more.
Digital signage can be used to inform, warn, and remind students of proper social distancing protocols. At the same time, digital signage can communicate school calendars, special events, scheduled messages, and most importantly, broadcast urgent messages to all school personnel during a state of emergency.
Additionally, digital signage acts as an innovative and eco-friendly solution to passing along information instead of printing excess flyers and documents that will eventually get disposed of.
Deploying digital signage technology is also less expensive, and more sustainable than laminating giant posters that eventually get taken down and replaced.
3. Security Camera Systems
Surveillance technology such as a security camera system is a helpful solution that encourages real-time surveillance. Security camera systems can help monitor
School or class attendance;

Student behavior, inside and outside of the classroom;

People density and proper social distancing etiquette;

If a door gets left open longer than normal;

Location of teachers, and faculty members;

Potential threats to the school;

Vehicular traffic around the school;

Loud, unexpected sounds;

Dropoff and delivery Information; and

Guest activity.




A good security camera system can secure and monitor your entire school from one location and can utilized cloud-based technology to be accessed remotely from anywhere in the school or off-premises by administrators with access information.

Those with authorization can be given access to:

View and Respond to door alarms;

Receive a notification when a particular door is opened;

Lockdown specific school entrances and exits;

View surveillance video; and

Alert school personnel of an intruder through an alarm or warning;
Security and Administration can be put in charge of viewing and monitoring the security camera system at all times from a central location. Authorized school personnel can also access the security camera system remotely through their computing device of choice.
4. Card Access
Card access provides a non-touch solution to access specific doors, rooms, corridors, stairwells, and equipment within the school. Cards can help authenticate users and allow only authorized personnel to access particular areas of the school.
Students can also utilize their card as an identification card and access computer systems, vending machines, the school library, and more. If the card is lost or stolen, a school administrator can easily lock out the card until the student gets a viable replacement.
Schools often have dozens of rooms such as classrooms, offices, laboratories, lunchrooms, storage rooms, and more; all require being locked to limit access. Card access provides a more straightforward solution than having a separate key for each room.
Also, incorporating card access into your school allows each entry point to be monitored, logged, and tracked. This provides ultimate security to your students and school personnel at all times.
What Are Some User-Friendly Cost Recovery Applications To Use?
Technologies such as temperature kiosks, digital signage, security camera systems, and card access inform all people that enter the facilities of compliance policies and rules mandated in that particular school district to encourage practical safety management. These four technologies ensure the health and wellness of all who enter the school.
While schools need to generate a safe reopening strategy that students, teachers, and faculty members can all follow, the four technologies listed above can help enforce your school safety plan.
For example, once your school administrators decide which entrances need to be safeguarded, next is determining how they will be protected and by whom. Ensuring that there are enough devices and people to preserve these entrances is imperative in abiding by a reopening strategy that works.
Ready To Implement Technology Solutions In Your School?
Technology solutions can be utilized to keep schools aware of potential safety concerns. With COVID-19 and related variants remaining as a temporary safety threat, it's imperative to incorporate new ways of spreading vital information that can help your entire school stay safe.
LDI provides system integration and installation services for various technologies that your school may require. Our Pro AV Services, Managed IT, Cloud Communications, and Security Departments provide the full range of solutions from digital signage and video walls, temperature kiosks, and access control systems, as well as security camera systems.
Reach out to an LDI Representative today to schedule a one-on-one consultation and address any safety concerns or needs you may have as your school reopens.
{{cta('c45c4ecb-9a32-4d70-a74e-ea273d2d10ef','justifycenter')}}