3D Capture and Print
3D Systems ProJet® SD/HD 3500 Series
The ProJet 3500 HDMax uses Multi-Jet Modeling technology to deliver robust, durable, high quality plastic parts. This model includes a High Speed printing mode, an expanded print envelope compared to other models in the range, and larger total part size. Touchscreen controls and remote tablet and smart phone connectivity make operation easy and intuitive. These 3D printers use the VisiJet Materials, offering UV-curable plastic, in a range of colors, translucencies and tensile strengths.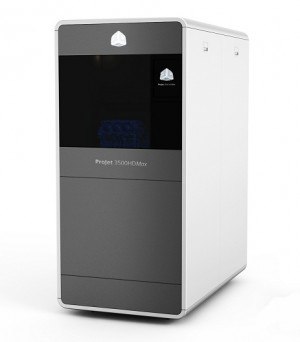 3D Systems ProJet® SD/HD 3500 Series Features
The high capacity ProJet 3500 HDMax offers greater productivity, including with the High Speed printing mode, and larger high definition prints, for the production of functional plastic parts for product design and manufacturing applications. Benefit of the increased throughput and part size with feature detail and quality only possible with ProJet printers.
Max THROUGHPUT • Max DEFINITION • Max VOLUME
3D Systems ProJet® SD/HD 3500 Series Specifications
The VisiJet line of plastic materials offers numerous capabilities to meet a variety of commercial applications.
Using the MultiJet Printing (MJP) Technology, 3D Systems' ProJet 3500 3D Printers use VisiJet M3 Materials to build accurate, high-definition models and prototypes for proof of concept, functional testing, master patterns for moldmaking, direct investment casting, for transportation, energy, consumer products, recreation, healthcare, education and other vertical markets.
Toughness, high temperature resistance, durability, stability, watertightness,biocompatibility, castability are a few of the key attributes you will find within the VisiJet materials line. Parts can be drilled, glued, painted, plated, etc. Support material offers easy, non hazardous post processing and preserves delicate features.