Why Video Conferencing is a "Must-Have" for Today's Business
Pro AV | Visual Displays | Zoom
As a business professional there is no denying the basic advantages of video conferencing. Face-to-face video meetings make interacting with your colleagues, partners, and customers easy and it's a reliable way to communicate and collaborate regardless of their location.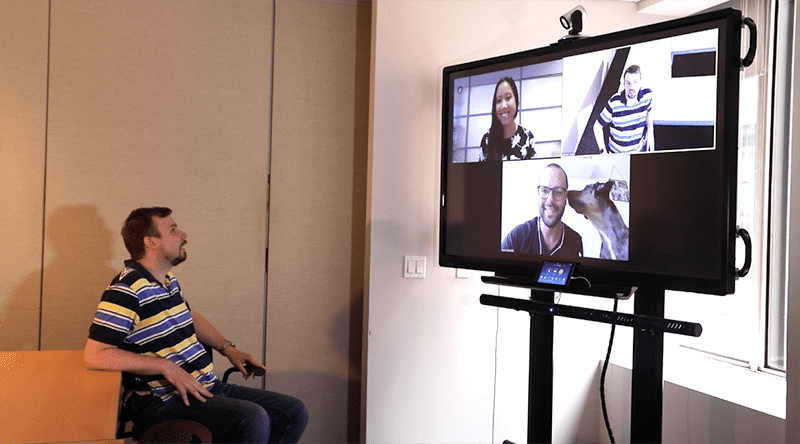 Here are a few statistics that explain why video conferencing is a "must have" for today's business:
89% of employees say that video helps them feel more connected to colleagues. I've been part of large audio calls or even a conference call with ten or more co-workers and the difference without video is striking. On those calls, it's very easy to become distracted and multi-task while listening to a conference. With attention spans getting shorter, it's vital that we actually see the people we are talking with. Otherwise the lack of retention will be noticeable after the call is over.

90% feel that video makes it easier to get their point across. There is an old expression that works here; "out of sight, out of mind." On an audio call, or even a computer chat with your photo avatar it can be difficult to absorb complex concepts. Most people are visually oriented and need to see that the party on the other end understands what is being said. If you can't see the confused look on the other end of call, and your colleague is too self conscious to mention it, then the opportunity to reach an understanding is lost.

58% of companies use video conferencing daily. While the benefits seem obvious, a survey of business executives found that 75% of them predict that video conferencing will ultimately supersede audio conference calls.
Some employees would choose it over a pay raise. Over half of the US workforce holds a job that is compatible with partial telecommuting and almost 90% of them would like to telework at least part time. In fact, 36% would choose it over a pay raise. Video conferencing solutions offer the option to work from anywhere without missing meetings or sacrificing collaboration.
For HR teams and potential employees, 66% of candidates prefer to use video during the interview process. It beats a phone screen hands down. It also puts both the interviewer and candidate more at ease when they can see each other instead of looking down at a script.
So are you ready to get started? Or maybe your old conference room technology needs a refresh? The days of difficult software integration are over and today's technology has made remote collaboration easy. In the past you needed two separate conferencing platforms in tandem to create a workable meeting space. Or maybe you invested in past technologies, like a Polycom Video Conference System which has severe limitations and can be expensive to upgrade.
In order to really collaborate between people, whether they are using a desktop, tablet or smartphones you need the right software to go with your large screen systems. We at LDI recommend Zoom for video conferencing, as it's a great all-in-one solution for online business meetings and webinars. And only a single user needs to download the application, as everyone else can click the meeting link and jump right in from their phone, tablet, or desktop. Even better, you can outfit your main conference room as a "Zoom Room" with a big screen interactive display. Find out more about Zoom Rooms here.
All statistics compiled from Gigaom Research, PGi and Global Workplace Analytics.