What Are The 3 Best RMM Tools Your MSP Should Be Using?
Managed IT | Managed Services Provider | Network Infrastructure | Network Security & Cybersecurity | Remote Monitoring and Management | RMM Tools
Remote Monitoring and Management (RMM) is designed to help IT specialists effectively monitor and manage a business's IT infrastructure.
From the setup and network availability of your desktop computers and servers to the maintenance and monitoring of your entire IT environment, RMM is a vital tool for managed services providers (MSPs) to use.
Seeing as MSPs are responsible for managing your IT infrastructure, it can be tough to ensure that they're doing a good job monitoring and managing your IT environment remotely.
By ensuring that they are using one of the best RMM software tools, you will be able to make sure that they cover all the bases when it comes to securing your IT environment and mitigating any risks.
LDI has worked with several clients using RMM software to monitor their environment after closing any security gaps in an IT security risk assessment. We know how scary it can be to put your cybersecurity and IT needs in a managed services provider's hands.
That's why we provide valuable security reports to our clients quarterly and allow them to log into the RMM software any time they want more information on the security and health of their IT environment.
This article will overview the best remote monitoring and management tools on the market and why they're essential for MSPs to have. After reading this article, you will better understand what makes a particular RMM software "the best." You'll have a better idea of which RMM software your MSP should use to protect, monitor, and manage your IT infrastructure.
How Do RMM Tools Help MSPs Monitor & Manage Your IT Environment?
IT specialists use remote monitoring and management tools to help monitor and maintain the client's systems they manage.
An RMM tool alerts the IT specialist that your operating system is not working the way it should.
For example, it will notify a specialist if a particular device on your network is breached, experiencing slow-run time, or if its central processing unit (CPU) is being overutilized.
Additionally, it provides comprehensive asset management of all of your devices. Asset management consists of detailing how many devices and operating systems your business owns, as well as the age and components of each.
RMM also routinely checks that the software you have in place is compliant with the latest security patches to remediate any cybersecurity risks.
At this point, you may be asking yourself, "why can't my business just implement RMM software and use it instead of hiring an MSP?"
Can You Use RMM Software Without The Help Of An MSP?
Yes, your company can absolutely install and utilize RMM software on its own.
However, if your business does not have an in-house IT department or dedicated IT staff to properly install, implement, and utilize the RMM software – it can be harder to use this software.
In addition, RMM software has its own cost and you'll be paying a monthly fee if you decide to implement it yourself.
When hiring an MSP to manage your IT environment, RMM software is a part of the package.
An MSP can implement RMM software onto your network, use it daily to keep a close eye on your IT infrastructure remotely – all with it not being an extra charge.
So the choice is yours. LDI recommends implementing RMM software only if you have a designated IT team of professionals to help you get the most out of it.
In the meantime let's take a deeper look at what three of the best RMM tools are for MSPs to use to monitor and manage your IT environment.
What Are The 3 Best RMM Tools For MSPs To Use?
With a well-maintained IT environment, you will get more years out of the devices you own. Your MSP or the IT specialists you work with can nip those IT problems in the bud by implementing an effective RMM tool to keep your systems running better with fewer problems.
Let's cover the three best RMM tools that an MSP can use to correctly protect and maintain your environment.
1. Ninja RMM
Ninja RMM can be categorized as one of the best RMM solutions for small to medium-sized businesses rather than large enterprises.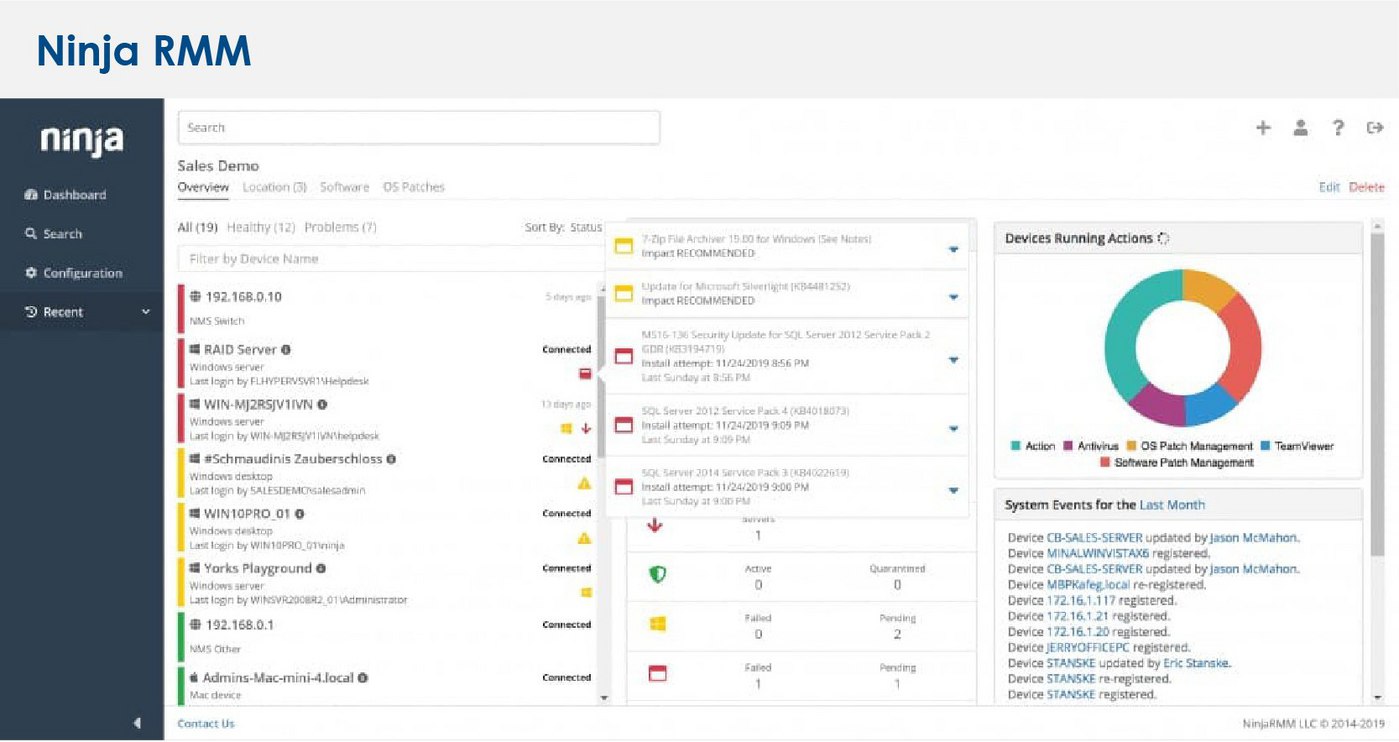 So if your MSP is made up of only a few IT specialists, they would most likely benefit from using Ninja RMM as their software of choice to monitor your environment. Why?
Well, Ninja RMM acts as a single pane of glass, automating most tasks so that everything from managing patching and antivirus remediation is easily accessible and built-in.
This tool can benefit a small MSP team when they have multiple fires to put out from various clients they're working with.
Ninja RMM provides a complete 360-degree monitoring solution while including regular remote monitoring and management functionality such as setting up the software remotely, security patching, scripting, and more.
2. Connectwise Command
Connectwise Command's RMM solution has a cloud-based server with client-server architecture for managed computers. It features remote monitoring and reporting options, along with automated system trigger-driven remediation and alerting features.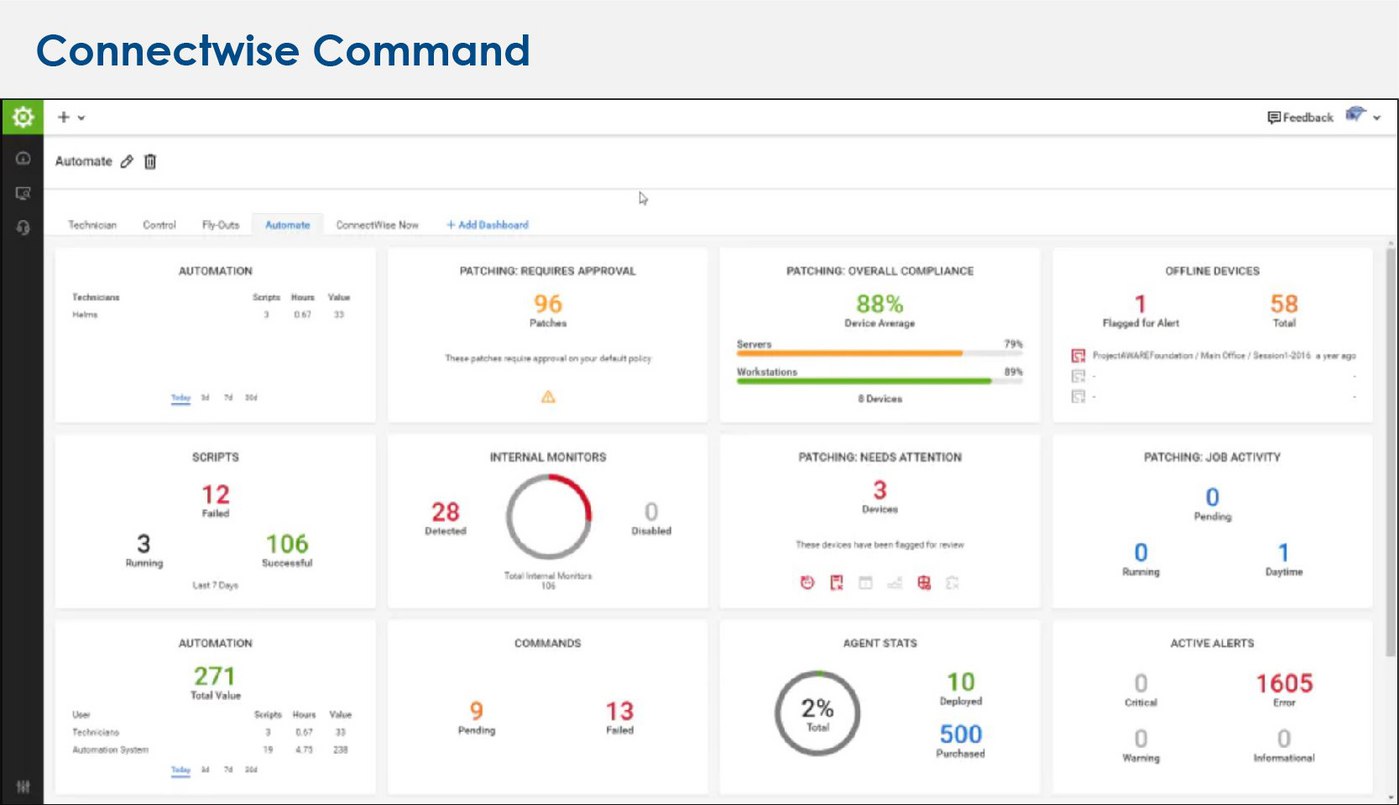 ConnectWise Command includes hands-off patch management and intuitive scripting, allowing your MSP to devote more time to urgent issues or develop an IT roadmap for your company.
Additionally, as the client of an MSP, it allows you to access a unified dashboard where the performance of your network and all devices are being monitored and managed. This way, you can stay up to speed on each device and which components like security software and patches have been implemented.
As IT environments become increasingly sophisticated, ConnectWise Command acts as a simple RMM tool that can keep your systems running smoothly.
3. Autotask Endpoint Management (AEM)
As a SaaS solution, Autotask EM (AEM) requires an installation on every computing device to work efficiently.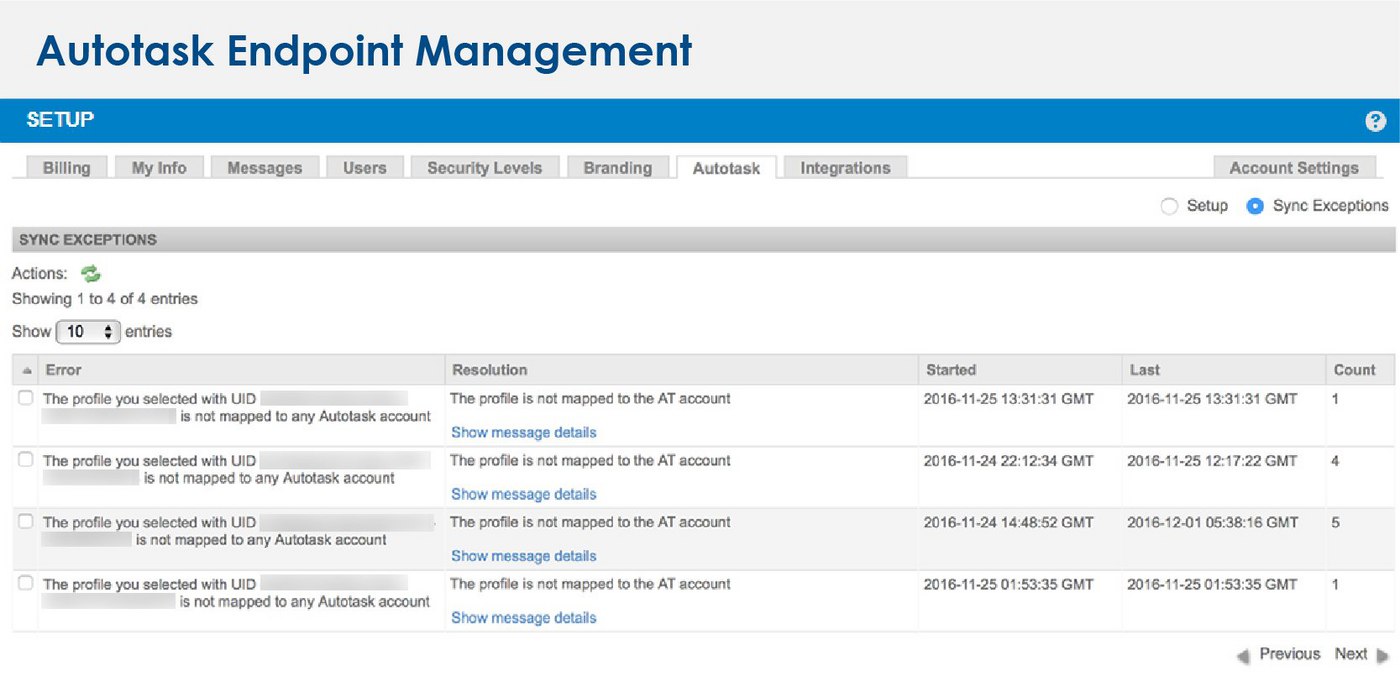 You or your MSP can download the agent on a remote system and manually start the silent installation, or you can use Active Directory GPO to do this work for you.
One of the biggest perks of AEM that sets it apart from the other two RMM tools is that it can be easily integrated with automation tools that can easily push out upgrades, patches, and other system updates.
Meaning that AEM can run scripts on remote devices, collect log files, perform patchwork, execute PowerShell automation commands, and more.

Each RMM tool mentioned above has commonalities. However, your MSP should be able to collect vital information regarding the health of your IT environment and its daily security posture from the features included in each RMM software.
Why Should An MSP Be Using An RMM tool Listed Above?
If your business chose to outsource the management of its IT environment to an MSP or IT specialist, the chances are the reason was to keep your infrastructure well-protected, operating smoothly, and updated with the latest software and best practices.
To ensure that your MSP is doing all they can to monitor and manage your environment correctly, doing your research into the tools they should be using can help put those worries to rest.
Typically every MSP should use an RMM tool to survey a client's IT environment. Whether you haven't hired an MSP yet, or are currently working with an IT specialist to maintain your network, it's best to be aware of the software that can do the best job.
At LDI, our Managed IT team works with clients to keep them up-to-speed on what's been found on their network through the RMM software we implement at the beginning of their journey with us.
Speak with one of LDI's IT specialists to learn more about RMM software today.