How Much Do Managed IT Services Cost? (2 Pricing Models)
Costs | Managed IT | Managed IT Services Cost | Pricing Models
When exploring Managed IT options, you may wonder, "How much is Managed IT going to cost me?" The answer, however, is more complex.
The truth is that the cost of Managed IT services depends on the pricing model and services you utilize. While every MSP differs in their IT solutions, they all tend to abide by similar pricing models to sell their services.
Keep reading to learn what Managed IT services are, what's included in them, and how much they cost.
Managed IT Services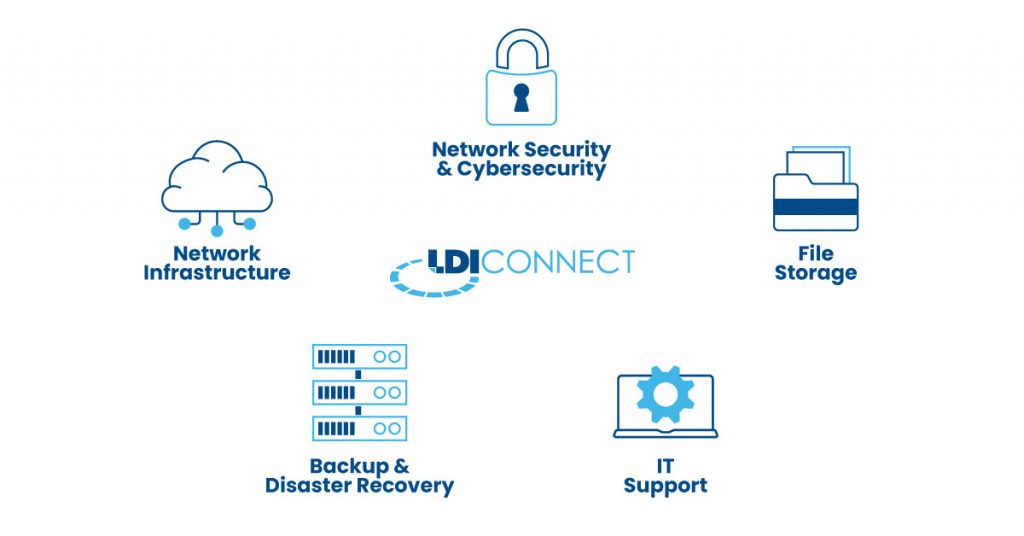 At their core, Managed IT services are offerings from a managed services provider (MSP) that help maintain, monitor, and optimize a business's IT environment. Managed IT services are customizable based on need and can apply to a business's network, operating systems, and security posture. Some features include running an IT network security assessment and penetration test to evaluate your current security posture, implementing the right malware protection software on all network devices and IT helpdesk support from industry-certified experts.
Let's dive into some of the most utilized aspects of Managed IT services.
Email Spam Filtering
Managed IT services include securing your company's email through the implementation of email spam filtering. Spam filtering sifts through your employee's emails to detect virus-infected or unwanted inbound and outgoing phishing emails to protect their employees and valuable data from potential breaches. Since most cyberattacks originate in an email, these emails act as a gateway for hackers to enter your network.
Data Storage and Backups
Storage and backups work together to secure your valuable information and protect it. Data storage involves keeping your data in a secure but readily accessible location. Backups involve copying data and storing it in separate areas for failsafe purposes in case of a breach or crash. Data can be stored and backed up on cloud-based or physical servers.
SIEM/Log Management
Ensuring your employees are trained in cybersecurity awareness and ready to detect viruses and suspicious activity is imperative. Managed IT services can educate your current staff on data security, email attacks, policies, and procedures to stay aware of cybersecurity threats.
Network Monitoring
Updating your network keeps your organization up-to-date with the latest technological advancements. Some critical update services offer an automatic update option to protect your staff computers from the latest known attacks. An MSP can help implement a network monitoring solution on your company's network devices to routinely monitor and upgrade your operating systems and applications.
Advanced Endpoint Security
Another vital service included in Managed IT is implementing endpoint security protection software to protect your valuable data from unauthorized users who try to access your network. Today's latest technology (which replaces outdated antivirus solutions) protects against file-less and script-based threats. It can even roll back a ransomware attack.
Managed IT Pricing Models
Managed IT services must be flexible to create customized packages for businesses of all sizes. What a small business needs to stay protected in cybersecurity is vastly different from what a large company may need. Regardless of where these businesses overlap and diverge in their IT needs, Managed IT services can help them both.
For this reason, there are two pricing models to keep in mind when searching for services to protect your business.
Per-User Pricing Model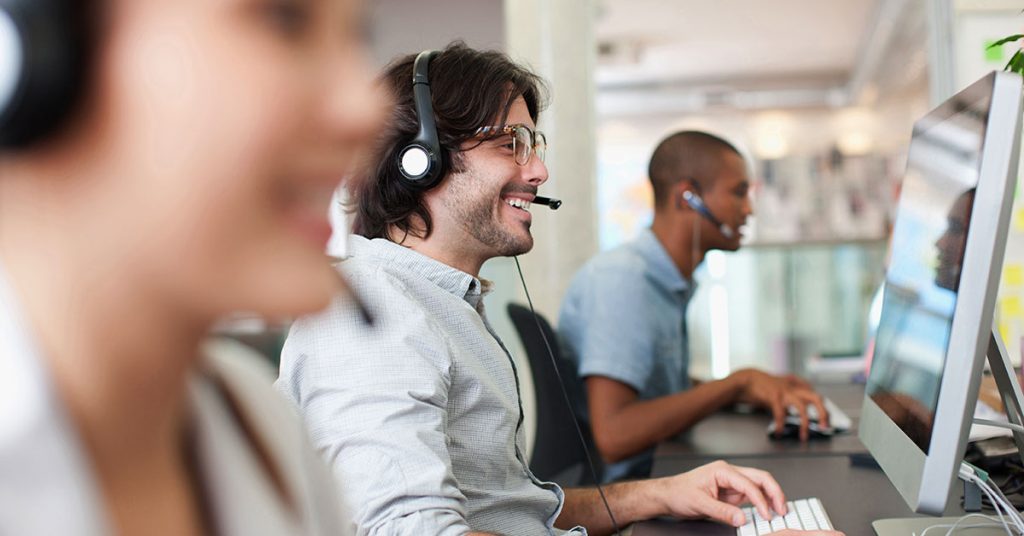 The per-user pricing model covers all of the IT needs of a user, regardless of the number of devices they use. Per-user is set at a flat fee of approximately $100- $150 per user per month. While a customer will end up paying more as their number of users increases, this pricing model does not involve the number of devices the MSP has to maintain within their environment.
This pricing model is commonly offered among MSPs because it's easy to showcase costs for prospects. The per-user pricing model is a good plan for those with tighter budgets and robust forecasting to add more users as their organizations continue to grow.
Per-Device Pricing Model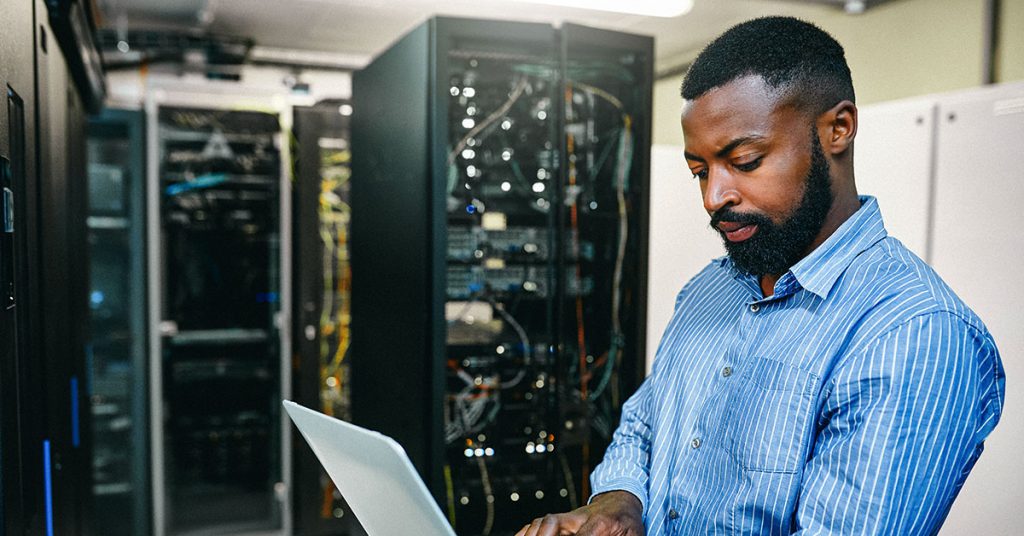 The per-device pricing model is the simplest of all pricing models. The most significant difference between the per-device pricing model and the per-user model is that an organization is billed per device instead of per person.
Managed IT providers may designate an individual fee per device, including desktops, tablets, mobile phones, printers, copiers, and servers. The average price for the per-device plan can range from $10 to $100 per month but quickly rises as users add more devices.
Weighing the Cost of Managed IT
Working with a Managed IT provides peace of mind in knowing someone monitors your IT environment and network and offers remote and onsite helpdesk support; while keeping the IT environment up-to-date and secure. Outsourcing IT services is simple and effective and results in high-quality infrastructure. However, partnering with a provider has its pros and cons.
Let's identify the main pros and cons of working with a Managed IT provider versus keeping your IT in-house.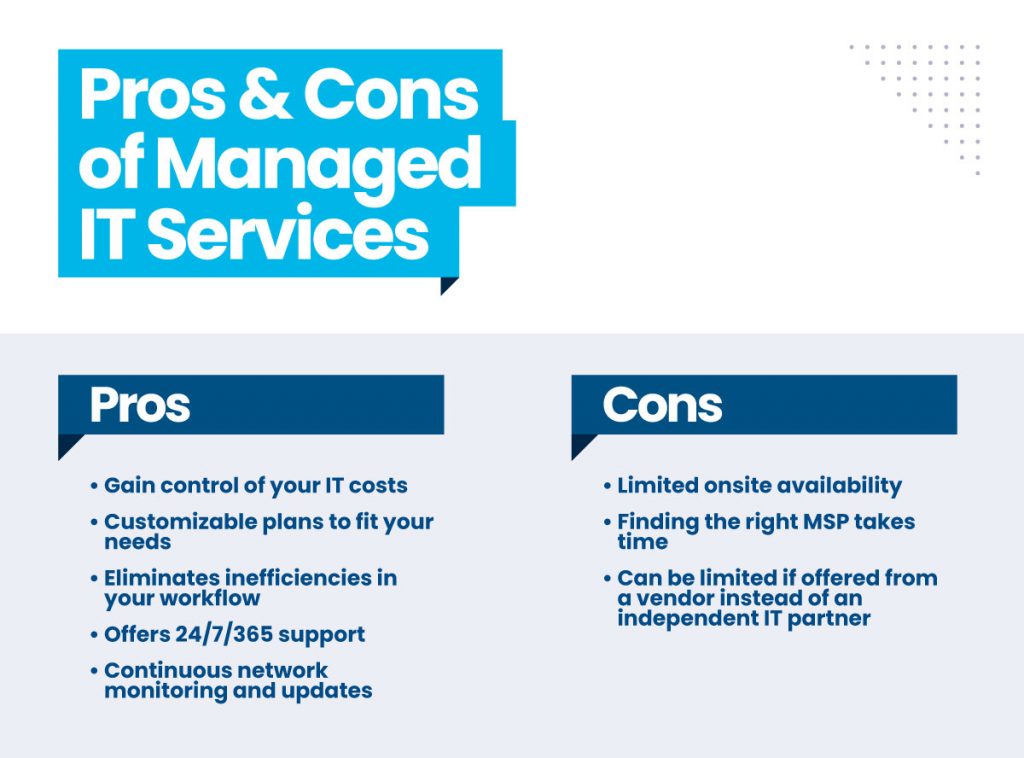 Protect Your Organization
Managed IT service providers give an estimated cost of their services upfront, so you don't have to worry about fluctuating IT prices. Regardless of who you choose as your provider, you need to ensure they can protect your organization for a price that fits your budget.
LDI Connect's Managed IT services include guiding customers toward their company's most beneficial IT solutions based on their current IT needs and budget. We help customers consider what pricing model best aligns with their IT environment's long-term plans.
Whether you need help with day-to-day aspects of your IT management or want to outsource complete control, we have the resources and capacity to ensure your IT infrastructure works for you. Our services include a complimentary current network assessment, proactive maintenance, strategic planning, and 24/7/365 support.
Click the link below to learn more about Managed IT from LDI Connect.