What To Expect During A Print Assessment With LDI? (3 Steps)
When optimizing your print environment, how can you tell what needs to improve if you don't know what you're looking for?
That's where a print assessment comes in. Think of a print assessment as a managed print provider's way of evaluating your print network to recommend customized print solutions based on your current print devices, activity, workflow, and costs associated.
Without a print assessment, it would be hard to pinpoint what needs changing and what print strategy to put in place for long-term success.
At LDI, we provide complimentary print assessments as the primary step for our prospects and new managed print services clients. We understand how confusing it can be to look after every printing device within your infrastructure. That's why we assess and evaluate first to then work with you in building a print strategy that works best for your current needs and goals.
This article will start by introducing the goal of a print assessment. Then we will cover the three steps to expect when receiving a print assessment from LDI.
By the end of this article, you will have a firm grasp of what a print assessment aims to do so that you can make definitive choices towards optimizing your print infrastructure. You will also understand the processes LDI takes to ensure your infrastructure is adequately evaluated, analyzed, and secure.
What Is The Goal Of A Print Assessment?
A print assessment allows customers to understand their current total cost of ownership, including the physical costs to print and many of the unforeseen factors that impact the costs of their print environment.
A few factors include inefficient document workflow, document storage (offline and online), and management and document security.
Once completed, the goal of a print assessment is to offer enough information and insight for our clients to fully grasp the health, security, and cost of their current print environment.
The more information you have regarding your print infrastructure, the easier it will be to make long-lasting decisions about your environment.
3 Steps To Expect When Receiving A Print Assessment From LDI
Is your business having a difficult time printing due to all the slow-running printing devices? Perhaps, you've started to notice how costly the upkeep is for maintaining all of your outdated multifunctional devices?
Regardless of how you concluded that your business needs to optimize its print environment, you're here now.
Now that you have decided to switch up your print infrastructure and enlist the help of a managed print provider for a print assessment, it may help to get an idea of what to expect.
Here at LDI, we believe print assessments are vital in comprehending how healthy, secure, and costly your print environment is.
Let's dive into the three steps to expect during a print assessment with LDI.
Step 1: Install Data Collection Tool
As a necessary first step, LDI installs the data collection tool, FMAudit. You can think of the FMAudit installation as the crux of the entire operation.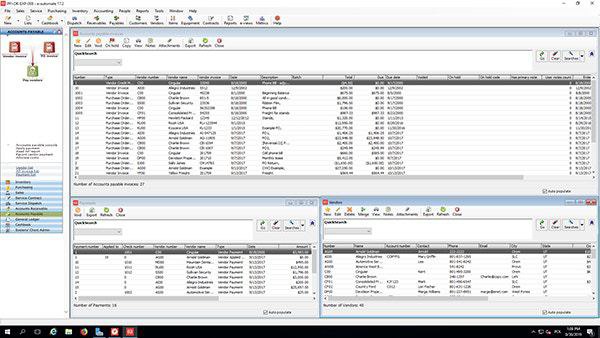 Once your business has scheduled a free print assessment with LDI, our managed print team will coordinate with an IT person or administrator at your company to remotely install this data collection tool onto your network.
As a remote monitoring tool, FMAudit can be installed remotely without any onsite visits required.
The installation process only takes roughly fifteen minutes, while the assessment will run for two to four weeks. Why?
During this time, the data collection tool will acquire meter readings while monitoring print consumable levels, printer status, and error logs. During these two to four weeks, the assessment calculates every printing device's average monthly usage and expenditure.
Our data collection tool may also capture the firmware version of each device. This information will determine whether the device has reached its end of support and whether the device is secure or vulnerable.
Is It Safe?
Now, if you're thinking, "Geez, is it safe for you to be on my network for that long?" that makes sense. We understand how strange this might all sound for those of you who have never undergone a print assessment before.
However, installing FMAudit is a non-intrusive way of detecting the data necessary to optimize your environment long-term.
The only information the FMAudit identifies is the data outlined above, along with the model, serial number, IP address, hostname, and meter counts in both monochrome and color of every print device.
Step 2: Walk Through Print Environment
Once the FMAudit tool is installed and acquires the data about your current print environment, LDI does a physical walk-through of your print environment.

Why is that necessary?
Well, now that we have received the data from your print environment remotely, it's time to validate those findings in person.
A physical walk-through validates the calculated findings and determines if there's any redundancy or any unnecessary duplication of print devices.
During the walk-through, LDI will map out where the physical devices are located within your office and which particular departments mainly use those devices.
For example, suppose the data collection tool shows that two multifunction printers are being overused. In that case, the walk-through can confirm their placement within your office. An LDI representative can then physically see where more devices should live to help that department complete its workload.
A walk-through helps spot redundancy within the workplace. It can be hard to fully optimize your printer fleet and layout without seeing your print environment and your team in action.
In addition, seeing your print environment in person can help reduce your office's carbon footprint by understanding what's currently in place and what's needed.
Step 3: Present Findings & Review Executive Summary Report
After we've installed FMAudit and done a physical walk-through of your print environment, we present an assessment report and executive summary of our findings.

Think of it as a document of compiled data and recommendations specific to your company's current print environment. It will include a summary of your current state and recommendations for a future state or what we refer to as a clean sheet approach.
This third step involves an open dialogue where LDI confirms the data and presents long-term solutions to benefit your company. While we may have expertise in optimizing a business's print environment, we know that no one understands your business as you do.
That's where your feedback comes in to design a print solution that fits your company's particular needs and goals. The print solutions we recommend will depend on the specific data acquired.
For example, if your company has several outdated single functional print devices with high usage, LDI would recommend swapping those outdated devices for multifunctional printers that can process more print jobs with higher quality along with a lower cost to print.
Your company is the one that will be using its print environment to fulfill daily operations.
While the print solutions will vary depending on the company's specific industry, print needs, and goals, LDI takes an individualized approach to solving your particular requirements by carefully examining your infrastructure.
What Comes After The Print Assessment?
After the print assessment comes implementing a plan for your print environment to optimize it and reduce costs.
Whether you are or are not a client of LDI yet, once we've gone through all the steps of the print assessment, we will recommend solutions that you can implement. From there we can take action in applying the agreed-upon suggestions that we discussed if you choose to be a client with us or you can walk away from the assessment having learned a lot more about your print environment.
The print assessment is the initial piece of the managed print services program. Next is where the magic happens and your print environment can be modified to reflect your company's print needs and long-term goals.
Ready To Schedule Your Free Print Assessment With LDI?
Many businesses don't know how much they're really spending on their print environment or how to optimize it effectively.
Not because they don't care, but because they either don't know what they're looking for or don't know how to reduce costs and optimize their environment.
Several businesses do not factor in all the monthly costs associated with their print environments, such as print consumables, print leases, break-fix repairs, and more.
Here at LDI, we ensure that your print environment is a space that facilitates office productivity and high-quality results.
We know how confusing it can be to find out what needs improving in your print environment. That's why we take a step-by-step approach in learning what we can about your print devices, activity, and costs before recommending solutions.
Schedule a free print assessment today to learn more about how to optimize your print environment.