4 Things To Look For In A Managed Print Provider For Your Business
Hooray! Your business is ready to take the first step in acquiring managed print services.
By choosing a managed print services provider, your business has decided to optimize your print environment.
Now comes the challenging part – finding the right managed print provider for your company.
LDI Connect's managed print team has worked with many prospects and clients, helping them optimize their print environment. With over twenty years of experience, we have learned what a business should look for when acquiring managed print services (MPS).
This article will break down four things to look for in a managed print provider for your business. By the end of this article, you will feel better prepared to make an educated decision when choosing the right MPS provider.
4 Things To Consider When Looking For A Managed Print Provider
Before choosing a managed print provider, it's imperative to do your research and diligence to understand what to look for.
Why? Well, to help you confidently narrow down your search and partner with the right MPS provider for your needs.
Now let's dive into the four things to look for in a managed print provider.
1. Ensure Their Priorities & Experience Align With Your Needs
To put it simply – does their experience, the way they strategize, or even their outlook aligns with your needs?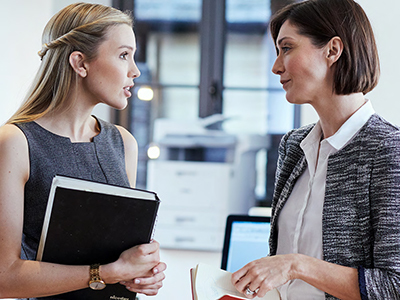 Suppose your top priority is to improve your data confidentiality throughout your fleet of office copiers, printers, and MFPs. If the MPS provider can only prove past client success with reducing print costs, they may not be the right fit for the job.
It's essential to understand their process as an MPS provider. They should review their process from the onboarding stage through implementing the print solution they're recommending.
It's also critical to ask about the longevity of their client relationships to ensure that you can build a solid foundation with the MPS provider you're looking to partner with.
While companies and their strategies evolve, it's essential to understand how the trusted managed print expert has adapted to new technological advances over the years. Why?
Since you're vetting this provider – it's helpful to fully understand their capabilities and experience to see how it may affect your partnership with them long-term.
2. Verify That They Provide Reliable Help Desk Support
Reliable communication is vital for any long-standing partnership. Before choosing the MPS provider for your business, it's essential to know their response time in help desk support.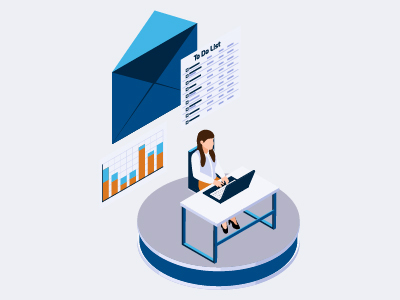 An MPS provider should make you feel like you are their priority and not have you waiting days to hear back.
While response times may vary from one MPS provider to the next, remote help desk support responds within the hour the first call was placed.
Once you've spoken with a help desk support agent, if the issue requires an onsite visit, your provider will send someone on-site within an 8-hour window of when that call was first placed.
Suppose your multifunction printer won't turn on. In that case, after you place a help desk support call, they'll usually recommend troubleshooting tips for you to try with them on the phone before sending a support agent onsite.
Regardless of the type of customer support, such as regular onsite visits to break-fix support or email correspondence, your business deserves reliable customer service.
3. Check That They Offer The Right Document Management Solutions
Document management is a crucial element of managed print services.

Your business should depend on an MPS provider to offer secure software to manage and protect documents. Implementing document management solutions such as uniFLOW or Papercut can help improve document workflow and access for remote and onsite personnel.
These solutions can also reduce the number of unnecessary print jobs and optimize document accessibility.
Acquiring the correct document management solutions for your needs is essential.
Ensure that you're getting the most out of your devices by understanding what software solutions they can offer your business.
4. Confirm Their Experience With Inventory Management
Inventory storage can be a hassle. We mean ink, toner, and other print consumables that leasing or owning a printer fleet requires by inventory storage.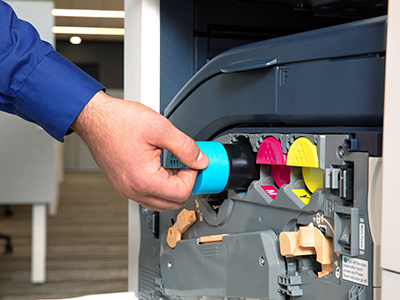 Selecting a managed print provider who can oversee your inventory without your team being involved is a huge perk. Why?
Your business has enough to worry about as it is.
Having a knowledgeable MPS provider track how much paper, ink, or toner you have consistently takes the worry out of over-ordering supplies or accidentally ordering the wrong supplies, leading to consumable waste.
Your MPS provider should keep a current inventory list and be able to replenish supplies with the correct brand of products.
Is Your Business Ready To Look For A Managed Print Provider?
Now that you know what to look for, it's time to start making a list of the managed print providers your company may want to work with.
You can start by researching the best-managed print providers in your area.
At LDI, we follow a six-step onboarding and start new clients. Our process helps get a well-rounded understanding of how our clients print and how their print environment can improve.
If you're ready to take the next step towards finding the right managed print provider for your business, contact an LDI representative today.