Print Management: Why Optimizing Your Business Print Environment is More Important Than Ever
As companies implement their return-to-office plans and many fully-remote workers are transitioning, in some way, back to their offices, organizations are wondering if their current print setup will work post-pandemic. With hybrid work models now considered the norm, it is more important than ever for companies to optimize their entire print environments.
In planning for longevity, organizations must have a print policy that focuses on their physical offices and supports hybrid and remote workers.
At LDI Connect, our managed print team works with prospects and clients in all industries to help optimize and manage their entire print environment. Our MPS program goes beyond reducing printing and paper usage and is tailored to accommodate in-office, hybrid, and remote environments.
This article will define what it means to optimize your print environment and what a comprehensive Managed Print Services (MPS) plan should look like. By the end of this article, your business will understand why managing and optimizing your print environment is more critical than ever. And help you determine if your current print setup is right for your business post-pandemic.
What does it Mean to Optimize Your Print Environment?
In short, optimizing your print environment means implementing a total print solution that reduces costs while simultaneously increasing productivity.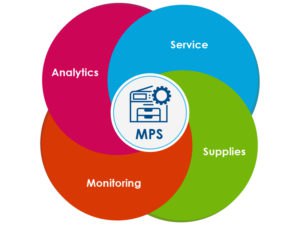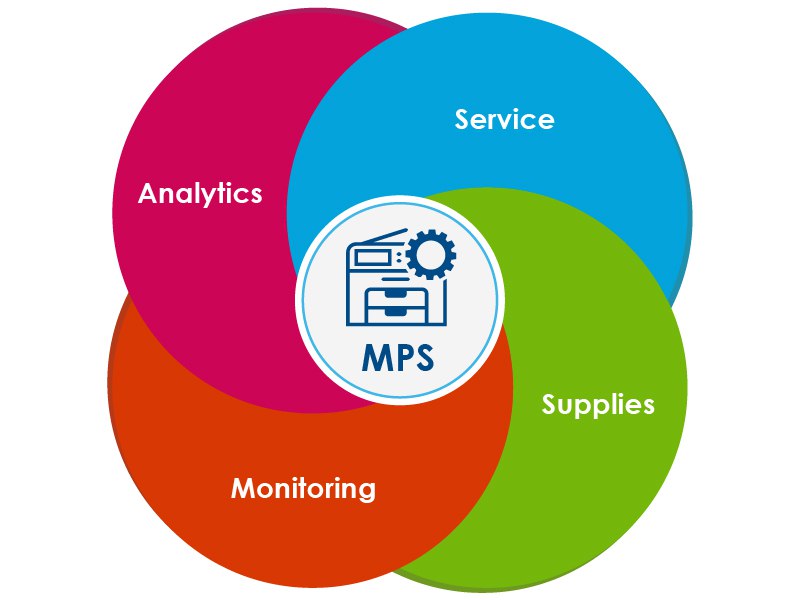 When done correctly, an MPS team will take the following steps to help you optimize your print environment:
Conduct a Print Assessment
Conducting a Print Assessment is an essential first step in optimizing your print environment. An assessment will help you understand your current print environment and give you insight into your company's print behavior, volumes, costs, and usage. A print assessment can also identify potential security risks in your current print environment.
Some companies provide print assessments free of charge and do not require that you sign up for a managed print services program.
After the assessment, a comprehensive MPS program should include the following:
Control Costs
Many organizations do not understand their actual printing costs. Printing costs do not just include the equipment, supplies, and maintenance costs. Companies must also consider the cost of wasted paper, IT resources, and energy costs associated with the equipment. Once these costs are understood, companies can implement a plan to control the true costs of their print environment. The plan should:
Establish low predictable payments
Forecast future costs
Automate consumables and supplies replenishment
Right-Size and Standardize
An assessment will help identify old and redundant print devices that can be eliminated. These devices often require more maintenance and are less energy-efficient, costing more overall. In addition, standardizing on devices creates consistency and easier management for employees in the office and working from home.
Remote Monitoring
Remote monitoring allows for remote printer management and monitoring of all office printing devices, including laser and inkjet printers and multifunction printers or MFP's. It is essential in identifying areas of optimization because it can anticipate when service and supplies are needed, helping minimize downtime and freeing up valuable IT resources.
Security
If you ask any business owner what keeps them up at night, security will be at the top of their list. It is not only important to ensure your print devices are secure in the office. As more employees utilize printers at home, an MPS program can actively enable, manage, and monitor security settings on all of the company's printers to ensure data is secure and protected from potential hackers.
Print Optimization is Ongoing
Companies can recognize Signs it's Time to Optimize Their Printer Fleet and should also understand that this is an ongoing process that can change over time. Changes in your business environment will undoubtedly continue to evolve, and there will always be new opportunities to enhance employee productivity and reduce costs.
Why is Print Management and Optimization So Important Now?
Even though many companies have transitioned core functions to the cloud and invested in virtual technology solutions, that does not mean that print equipment is obsolete. Multifunction printers (MFP's) or multifunction devices (MFD's) will continue to play a critical role.
Regardless of where employees work from- office, home, or both, they still need to print. In addition, in this more complex makeup, streamlining tasks associated with documents becomes even more essential.
With an increased focus on reducing costs, enhancing employee productivity, and improving data security, companies should understand why optimizing their business print environment is more critical than ever.
At LDI Connect, we focus on optimizing your company's total print environment, document workflow, and output. Book a Meeting with one of our MPS Specialists today to learn how you can optimize your print infrastructure.