Managed IT Service Provider: LDI Connect
Managed IT | Managed IT Provider
To be successful, companies must plan expenses and know that vital business systems will work as needed. A reactive approach to maintaining your IT networks is too costly in too many ways: lost productivity, dissatisfied customers and enormous repair costs. Managed IT services from LDI Connect are the smart, cost-effective alternative to gambling with your IT environment.
If you're considering Managed IT for your business, or looking to switch providers, keep reading to learn what LDI Connect can do for you.
What Is a Managed IT Service Provider?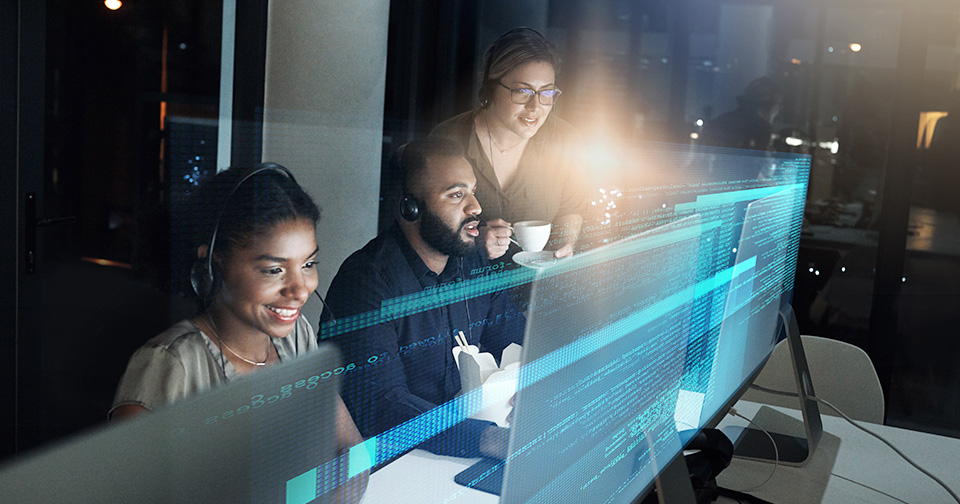 To answer the question "What is a Managed IT services provider?" we must start by answering the question, "What is a managed service provider?"
A managed service provider (MSP) is a third-party organization responsible for managing part of another organization's operational workflow. Businesses, nonprofits and government agencies hire MSPs for services like managing communication networks, information technology (IT) infrastructure and security systems.
So with that said, Managed IT service providers, or MIT providers, are third-party organizations responsible for managing another organization's IT infrastructure.
LDI Connect: Let Us Manage Your IT
As a Managed IT provider, LDI Connect's primary responsibility is to manage and support your IT infrastructure so that you have more time to focus on driving your business forward. We like to think of ourselves as a "proactive partner" who monitors systems, applies patches, protects against viruses and ensures backups are performing successfully. We'll catch and fix the little problems before they become big ones, often before you're even aware there's an issue.
What LDI Managed IT Looks Like
Depending on your current IT environment, your company's IT needs and goals, and your staff's technical skill level, our involvement can range from simply taking over the day-to-day operations to overseeing everything, including strategic planning and forecasting. We can also partner with existing IT departments to allow them to focus on other important initiatives that help drive revenue and growth for your company.
Network Monitoring and Care
We keep tabs on your network activity around the clock, and when a system or function fails, our support teams immediately jump in to investigate. Once the problem is identified, we'll work to fix it — in many cases, before you realize there's an issue.
Help Desk
Our U.S.-based Help Desk provides 24x7x365 support whenever you need it. Our highly skilled technicians can be contacted via phone, email or web-based chat, and are ready and waiting to help answer any of your technology questions and provide fast, professional support for various software applications.
Business Continuity
Our data backup and continuity solution ensures your critical information is secure, backed up and accessible whenever you need it – even during a network failure or a disaster. We make it so you'll never have to worry about data loss again.
Custom Project Work
We also offer more than 85 custom projects designed to help optimize your IT infrastructure, including software installations, migrations, setups and configurations and more. Best of all, our technicians can perform the work overnight or over the weekend, so there's no interruption or downtime at your office.
Managed IT Benefits
99.999% Up Time

Improved Security

Better System Consistency

Increased Employee Productivity

Cost Management and Control

System Performance Gains

Managed Expansion and Growth
Common Questions About Managed IT
Why LDI Connect for Managed IT Services?
As a Managed IT provider for over ten years, LDI has helped a broad range of clients with pre-existing in-house IT departments and without IT help. Our Managed IT division works with prospects and clients alike to meet them where they are in their IT journey and help them make the best decision for their business.
We believe that it's our business to make your business work better. As one of the industry's largest independent distributors of technology and solutions, LDI is positioned to give you sole-source convenience and dedicated service that other MSPs cannot match. Unlike a manufacturer or vendor, we are free to pick and choose what's right for your office from most of the world's best brands. We focus on your processes, not a product list.
In addition to providing Managed IT Solutions, LDI is one of the largest independent business solutions providers in the United States.
We help our clients solve business challenges through technology, including copy, print, scan and document management.

What makes LDI unique is unlike most of our competitors, we represent not one but many leading manufacturers, such as Canon, HP, Xerox, Sharp, Samsung and Toshiba.
Why Should I Outsource My IT?
If there's one certainty in IT, it's that things are uncertain. Computers crash, software doesn't work as it should and problems occur. And when they do, how you respond can be the difference between a minor hiccup and a full-blown business interruption. Whether you have an in-house IT department or not, outsourcing your IT services can help safeguard your IT environment and ensure you have everything needed to keep your business up and running in an emergency.
What Are the Costs of Managed IT Services?
Managed IT costs are typically divided into pricing models: per-user and per-device.
Per-user pricing models cover all of the IT needs of a user, regardless of the number of devices they use. Prices typically start at a flat fee of around $100-$150 per user per month.

Per-device pricing models charge an individual fee per device, including desktops, tablets, mobile phones, printers, copiers, and servers. The average price for the per-device plan can range from $10 to $100 per month but quickly rises as users add more devices.
This article dives deeper into the financial benefits of investing in Managed IT services.
LDI Connect as Your Managed IT Service Provider
Our goal is to serve as your technology partner with a focus on providing solutions that actually make a difference. We use a consultative approach to evaluate your business and technology needs and advise on the best solutions for your current and future needs. LDI Connect can save your organization time and money through better use of appropriate technologies.
Click the link below to learn more about Managed IT from LDI Connect.