LDI Connect: The Ultimate Guide to Unified Communications as a Service (UCaaS)
Cloud Communications | Cloud Services | Cloud Services Provider | Cloud Solutions | Collaboration Solutions | UCaaS | Unified Communications
Cloud-based software isn't just a reliable workaround for businesses to navigate the pandemic; it's become the standard for companies moving forward. This is why more companies are utilizing UCaaS.
Web-based office software has skyrocketed in popularity and growth since the push to remote and hybrid work environments took off. Managed IT, Print and Security software has all moved to the cloud. Unified Communications as a service (UCaaS) has also become more prevalent as the ways we work change, and many rely on it to streamline their internal office communications.
If you're new to the topic or considering choosing a UCaaS provider, this guide will cover everything you need to know, including
How Does UCaaS Work?

Pros and Cons of UCaaS

Where to Get UCaaS
What Is Unified Communications as a Service (UCaaS)
UCaaS stands for Unified Communications as a Service. It's the all-in-one term for cloud-based, remote communication capabilities, including
Voice over IP (VoIP) Phone Systems

Instant messaging

Audio and video calling

Desktop and file sharing
You can think of it as a way for organizations to use a single, streamlined platform to communicate efficiently.
Capabilities aren't the only benefit of utilizing a UCaaS system, however. The second part of the package refers to the "as a service" component, where cloud service providers or unified communication vendors actively manage, update and support the network.
How Does UCaaS Work?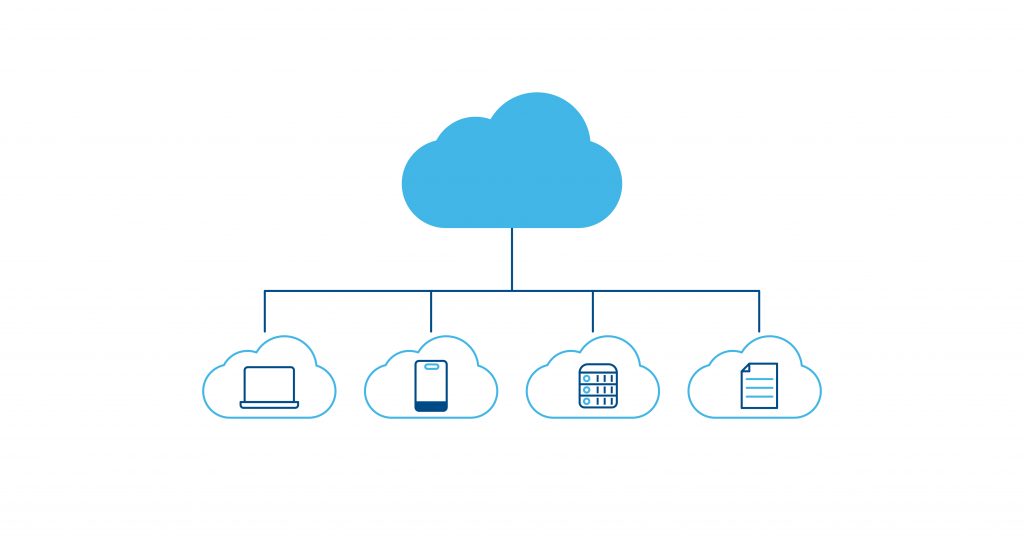 UCaaS systems are delivered through a service agreement with a cloud services provider or unified communications vendor like LDI Connect. Since the platforms are entirely cloud-based, UCaaS systems offer consistent accessibility for a work-anywhere, work-anytime environment. Users simply need an internet connection and login credentials to access their company's internal communication network.
In a physical sense, the "cloud" is a set of servers located off-site in a data center. There are three types of clouds: public, private and hybrid.
Public cloud —

Cost-effective and scalable, you "rent" the space from a provider that controls your storage size and security measures.

Private cloud —

Dedicated to you and at a slightly higher price, this is space you own and control.

Hybrid cloud — In a hybrid cloud environment, you may have public and private spaces and decide what goes where. You can store proprietary or sensitive data in your private cloud space.
Pros and Cons of UCaaS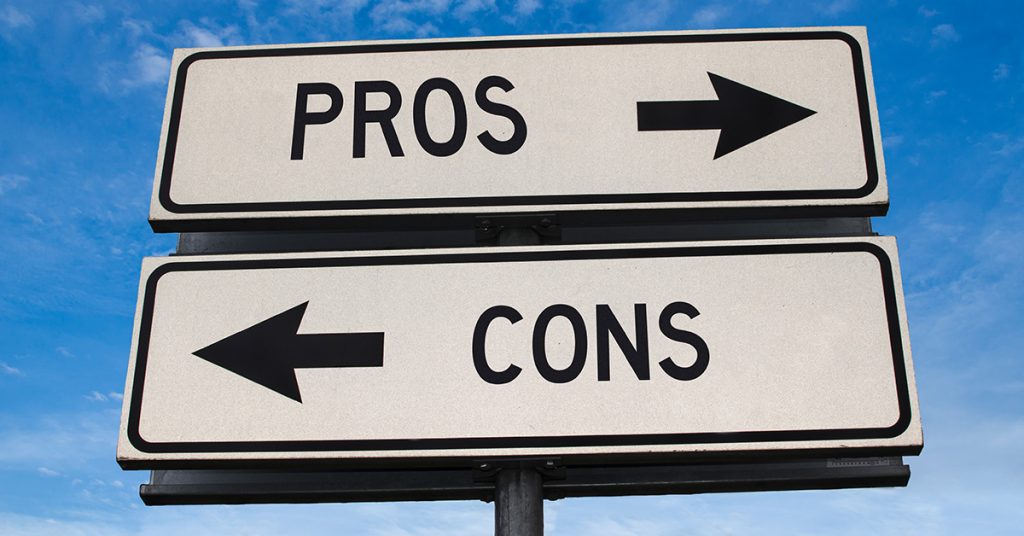 Like software services, UCaaS comes with its share of pros and cons. It has grown so much in recent years that many companies find it accessible and easy to use regardless of the size of their organization.
Pros
1. Low-Cost
UCaaS systems help companies scale hefty enterprise communication costs. Organizations no longer need to invest individually in expensive phone systems, hardware, devices, security, maintenance or IT support since all the working parts come in one managed platform. Costs are subscription-based, meaning flat-rate fees are typically charged monthly or annually depending on what's necessary for a business. You only pay for what you need and can make adjustments whenever necessary.
2. Flexibility
UCaaS systems provide the flexibility to transform how and where you work. Businesses using unified communication platforms eliminate physical boundaries in the work environment, allowing their employees to work in remote or hybrid settings. They also allow employees to work on the go in a physical office setting — users can start a call on a stationary phone and easily transfer it to a mobile device with the click of a button.
3. Unified Communication
UCaaS truly is the best way to centralize your business's communication network. By utilizing a single platform that integrates a phone system, video conferencing, chat, screen sharing and file management into one hub, users have access to a world of streamlined communication channels at their fingertips. They eliminate the tedious burden of jumping across multiple channels and devices while providing your team unparalleled access.
4. Secure
Unified communications systems are constantly updated and include the latest cybersecurity software and data encryption. Providers follow stringent compliance requirements set by the FTC, the California Consumer Privacy Act (CCPA), the EU's General Data Protection Regulation (GDPR), the Payment Card Industry Data Standard (PCI), HIPPA and more. Having one provider also eliminates the need to seek outside cybersecurity assistance from other vendors.
5. Enhance User Experience
One primary benefit of UCaaS is the ability to enhance your team's overall experience. Synchronizing communication channels and scaling devices can help improve employee efficiency and eliminate tech-related troubleshooting and headaches. The interconnectivity allows any business structure, whether in office, hybrid or remote, to function as if they were working in the same physical space — ensuring business continuity in any situation.
Cons
1. Internet Dependent
UCaaS systems operate on the cloud, requiring an internet connection to function correctly. If a disruption in your connection occurred, it could cause the system to go down temporarily. That said, many UCaaS providers offer an alternative approach using cellular networks as a backup in case of an outage.
2. Needs to be Managed
UCaaS systems are complex platforms that require proper expertise to set up, manage and run. Without someone equipped to implement and maintain a UCaaS network, internal IT departments or tech-savvy employees are left to pick up the pieces. That's why purchasing a UCaaS system through a provider is highly recommended versus attempting to use one as a standalone product.
Where to Get UCaaS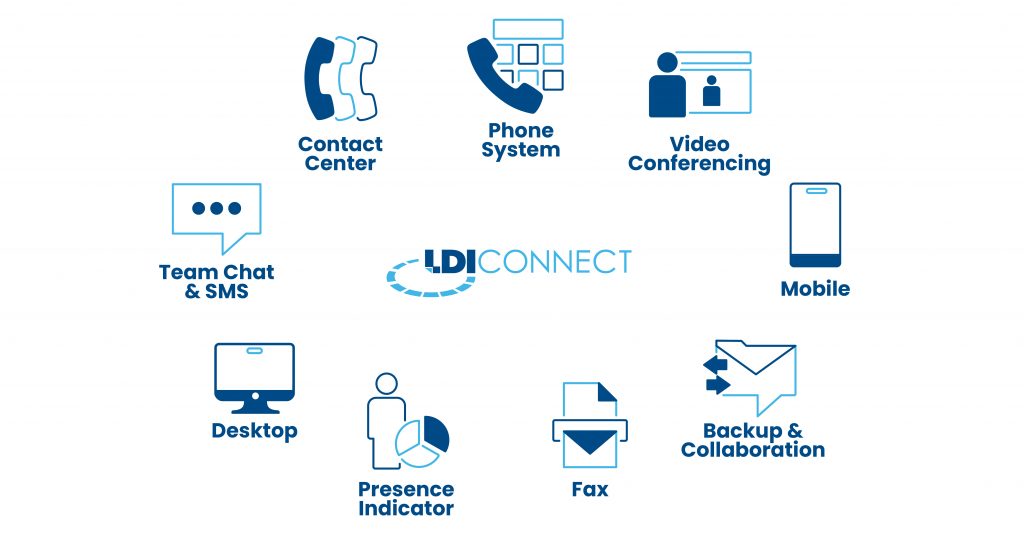 UCaaS is an excellent resource for any business looking to streamline its internal communication processes — without any tech-related headaches. LDI Connect makes it easy to have an integrated office communication system that helps your business be more efficient, effective and profitable. We can provide everything you need to connect your team with the setup, training and support to ensure it works.
Don't know where to start? Our partner-certified experts can make UCaaS product recommendations based on your current needs and goals to create a custom solution for your business. Click the link below to get started.