How To Choose The Right Paper For Your Company's Printing Needs
Paper | Paper Quality | Print | Print Consumables

Employees work hard to develop documents that look good, show well and are easily readable. But once the work is finished, choosing the best paper media to print on can be tricky.
There are various factors to consider when choosing the most suitable paper for the job to get the best quality output.
At LDI, our Managed Print division and Print Production Workflow Solutions team know there are tons of options when it comes to paper for printing. We assist our clients in finding the best one that specifically fits their print needs and goals. LDI consistently discusses, discovers, and then delivers print equipment, software, and solutions once we understand your company's current print infrastructure and the print jobs you wish to fulfill.
In this article, we will be addressing four key elements to consider about the paper you choose to work with so that you can get your printer to produce the best possible results. By the end of this article, you will have a better idea of how a paper can affect your outcome and what factors to consider when selecting your paper of choice.
4 Things To Consider About The Paper You Choose
Before considering the paper to choose for your printing needs, take a hard look at what kind of print jobs you're looking at producing. Without a thorough understanding of your consistent output, you will not have a solid foundation to make an informed decision regarding which paper can best help you achieve your printing goals.
Choosing the right paper for your printing needs is imperative to creating a great finished product. When ordering standard printing paper, the top features to consider are the type, weight, color and brightness, and storage options.
Let's dive a bit deeper and expand on the top four things to consider when choosing the right paper for your company's printing needs.
1. The Type Of Paper
Companies should consider what they are printing before determining what paper to use. For instance, are these simply essential internal office documents, a customer presentation, or a particular project such as a table tent that needs to be done?
The type of print job will define what kind of paper you will need.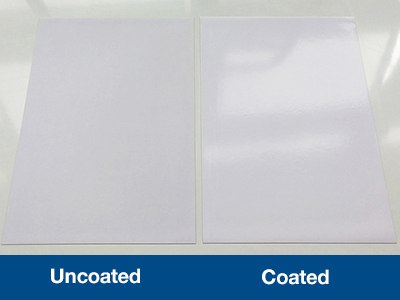 Let's dive a bit deeper into different paper types. Paper can either be uncoated or coated.
Uncoated Paper
Uncoated paper has a non-glare surface that quickly absorbs ink. It can be smooth or textured with a finish of your choice.
Uncoated paper can be determined by the brightness level of the paper. The brighter paper reflects more light to the eye. Paper with 85% brightness reflects back 85% of the light, while paper with 96% brightness reflects 96% of the light. The higher the brightness of the paper, the more your printed images will pop, and the brighter your colors will appear.
Some examples of uncoated paper are:
Paper, you can easily write on

Standard envelopes and stationery

Newsletters
Coated Paper
Coated paper is referred to as "Glossy." This coating will likely be a clay finish. It's applied to the paper's surface (to seal it) and limits the amount of ink that the paper can absorb.
Generally, when discussing coated paper media, both the finish and brightness are part of the discussion. Types of finishes include gloss, ultra-gloss, silk, or matte.
As a rule, the glossier the finish, the less absorption of ink there will be. And that means a crisper-printed image. Coated paper with a dull or matte finish is non-shiny and smooth to the touch. In contrast, coated paper with a glossy finish is both shiny and reflective.
Coated paper works well for:
Paper, you can't write on

Postcards

Menus

Brochures

Magazines

Catalogs
All paper falls within these two categories. Understanding your company's specific printing needs before selecting your paper will mitigate any confusion and overspending on paper.
2. Determine The Weight
The weight of the paper affects the output you desire and the printing equipment you want. Determining the weight ahead of time will help solidify what you want the end product to look and feel like.
There are three primary ways that the weight of paper can be measured: the U.S. basis weight (weighing 500 sheets (a ream), the metric weight (grams per meter squared), and weight estimated by mils or points.
First, ensure that everyone is speaking the same "language" regarding weight, mitigating any confusion from the onset. Also, not every printing device can handle every weight, so this needs to be discussed when exploring your equipment options.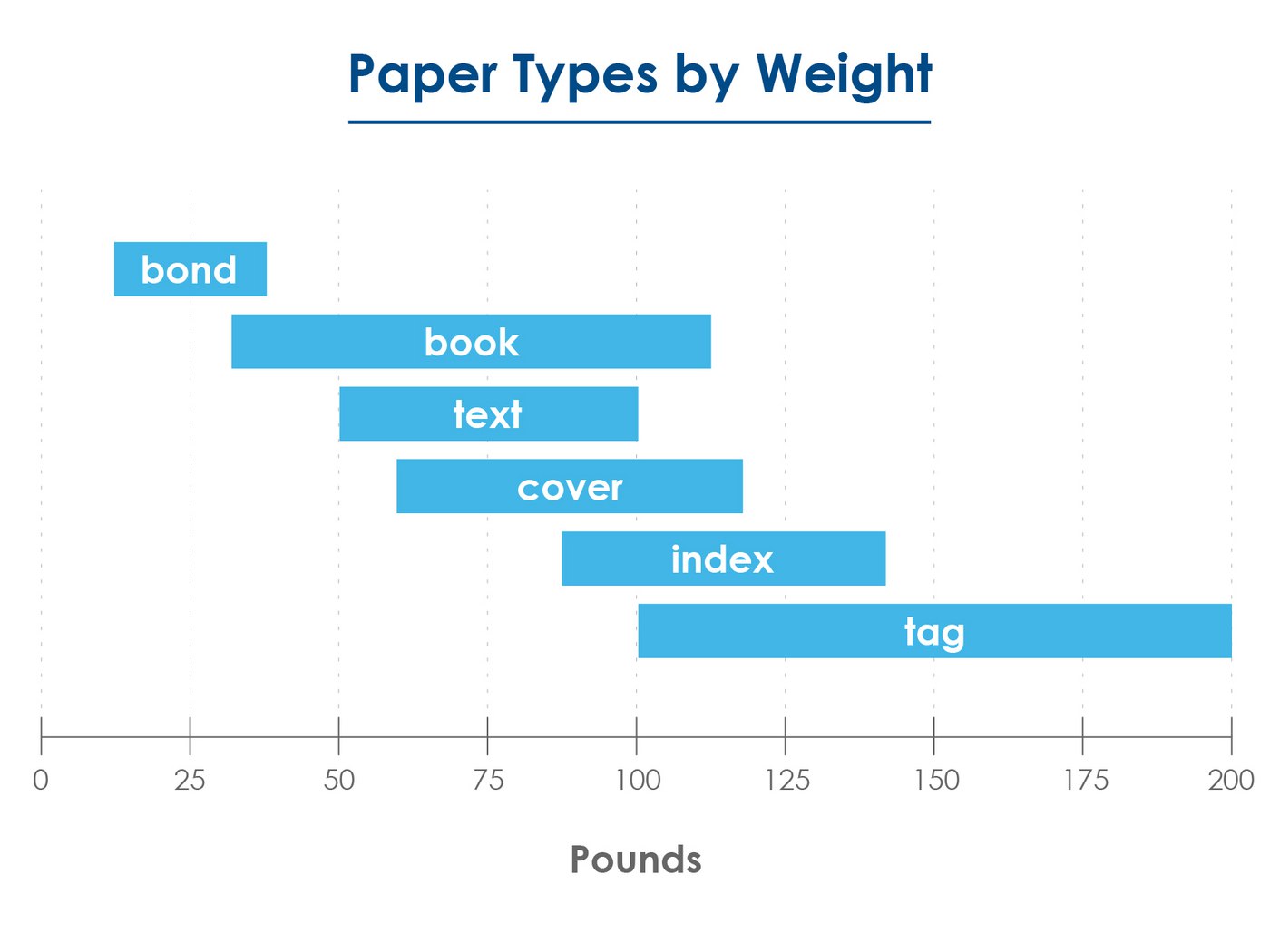 Here is some basic information to keep in mind:
Bond Paper
Bond paper is what you typically use in your printers or copiers. With a wide variation in weight (The U.S. basis weight range is 16-36 pounds), it is ideal for everything from printing emails to signs and contracts.
Book Paper
Book paper includes uncoated and coated varieties. There is a wide range of thicknesses available. Books, booklets, magazines, posters, and catalogs are typically made using book paper. The U.S. basis weight range is 30-115 pounds.
Text Paper
Commercial print operations commonly use text paper. Typical examples may be letterhead print jobs, stationary, and brochures. The U.S. basis weight range is 50-100 pounds.
Cover Paper
Cover paper, also known as cardstock, is typically a thick and stiff paper option. Cover paper is often used in menus, postcards, report covers, door hangers, and business cards. The U.S. basis weight range is 60-120 pounds.
Index Paper
Index Paper is, you guessed it, used for index cards. It is a stiff classification. Typical uses are manila folders, sketchbooks, tabs, dividers, and postcards. The U.S. basis weight range is 90-140 pounds.
Tag Paper
Tag paper is reasonably stiff and highly durable. You will find it used for price tags, table tents, door hangers, file folders, postcards, posters, etc. The U.S. basis weight range is 100-200 pounds.
Considering your printing needs will determine how thick or stiff you need the paper to be.
3. Be Aware Of The Color
There are varying shades of white when it comes to paper. A paper's color and brightness can play a big part in what you're trying to print onto it.
Paper is available in a wide range of colors. Colors include balanced white, natural white, blue-white, soft white, and more.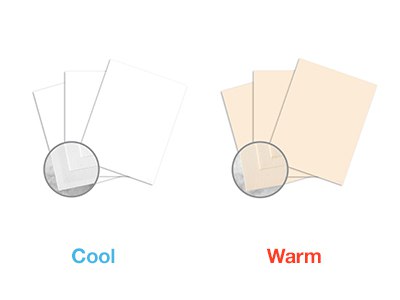 Paper with a blue-white color possesses a higher brightness and enables colors to appear more vivid. However, warmer white paper is lower in brightness and appears softer to the eye.
For example, printing cooler tones on warm white paper won't be as vibrant as printing them on blue-white paper.
Once you have decided on a sheet of paper, ask a managed print provider for a printed sample. Samples can help you better understand how your finished print project will look if you select that paper color and brightness.
4. Consider Where & How You Are Storing Paper
Take a good look at how you are storing your paper. Paper reacts to its environment by sticking together, curling or buckling. Ensuring that your company's printing environment is climate-controlled is crucial.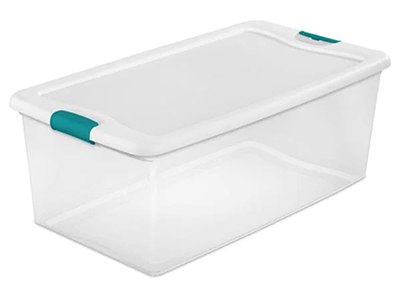 For example, more jams tend to occur during the summer due to a rise in temperature and humidity. One way to check on your paper is to rotate your paper in the trays. If it's been sitting a long time without use, turn it over and around to help keep it flat.
Most printing devices enable you to choose the paper types you are using. Not just the sizes, but the weights and the type of paper as well. When selecting the correct settings before a print job begins, the printing device adjusts itself to the paper input.
And Finally, What Paper Is Right For You?
The devil is in the details when it comes to getting the best results from your print device. Paper can often be overlooked and cause issues if not considered a critical component of a successful print job.
Some important factors when considering which paper is right for your company's printer include:
The type;

Weight;

Color; and

Where it is stored.
These factor considerations will enable you to make the best decision for your company by getting particular about what your ideal output is.
From the weight to the way the paper is cut, LDI employees are trained and certified by experts within the print industry on paper.
LDI's Managed Print division and Production Print Specialists work closely with clients to suggest the right printing equipment, accessories, and overall solutions that help clients meet their goals.
We know how overwhelming it can be to select the right tools for your printing needs. Speak with an LDI representative today to learn more about what paper is suitable for your company's printing needs.
{{cta('c45c4ecb-9a32-4d70-a74e-ea273d2d10ef','justifycenter')}}