4 Factors To Help You Choose The Right Cloud Service Provider
No two cloud services providers are the same. Just because a third-party organization labels themselves as a "cloud services provider" does not mean they can host your network on the cloud, nor that they can help you implement your SaaS product of choice.
Additionally, there is no common framework for assessing cloud service providers (CSPs) and their work. Bummer, right?
Nonetheless, most businesses understand how valuable implementing cloud solutions can be. Cloud solutions simplify access to data and business tools, making daily business tasks more accessible and efficient.
We get how challenging it can be to know which CSP to choose to help implement the right cloud solutions for your business. Not only is it difficult, but it's incredibly confusing when you don't have experience managing more than one cloud solution for your business.
Not every provider is the right fit for every business.
At LDI, our cloud services team has worked with several prospects and customers who don't know what to look for in a provider to help them reach their business goals. Our team has the expertise needed to recommend customized solutions that match the needs of your employees, end clients, and customers.
This article will provide the building blocks your business needs to make the right decision for your cloud environment. We will break down what a cloud services provider is and the four particular factors to look out for when considering the right CSP for your company.
By the end of this article, you will better understand how to discern if a CSP is suitable for your business.
What Is A Cloud Service Provider?
Think of a cloud services provider (CSP) as a third-party organization that offers cloud-based platforms, applications, infrastructure solutions, or storage services.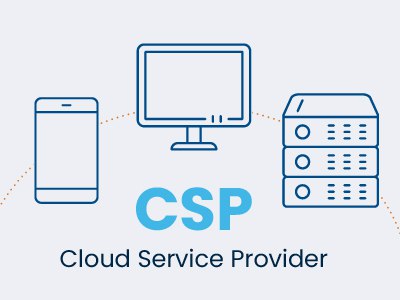 Essentially a CSP provides cloud services to clients requiring a new way to collaborate, a more straightforward way to store data, and a more efficient way to work.
While not all CSPs host their client's networks, software, and servers, CSPs can take a consultative approach to recommend cloud-based solutions relating to your needs and goals.
All in all, a CSP can monitor your cloud environment, implement SaaS platforms, offer security for the services they provide and provide helpdesk support along the way.
What Are 4 Factors To Help Your Business Select The Right CSP?
When considering cloud services for your business, it's essential to have a baseline of elements to refer to when selecting a cloud services provider.
These elements should reflect what to look for in a cloud services provider and help you make an educated decision based on your business's needs and requirements.
Let's dive into four factors to consider when choosing a cloud services provider for your business.
1. Do They Have The Cloud Security Solutions Your Business Needs? 
Ensuring that the cloud solutions you're implementing for your business are secure is essential.
Once your business explains to the cloud services provider what your needs and goals are, it's essential to ask questions about the cloud security measures they can implement.
For example, are they using remote monitoring and management (RMM) software to monitor and mitigate any risks from breaching your network carefully? Do they recommend cloud platforms such as Microsoft 365, and does that fit work well with the solutions you already have in place?
Make sure that the CSP you want to work with understands your goals, so they can make them a priority.
Additionally, it's essential to understand which security features are complimentary. The CSP you are working with should simplify the process by informing you of the security features of paid products and partner integrations related to cloud security.
2. What's Their Service Level & Approach? 
Considering your new CSP's level of service is imperative when you have strict needs about response time, availability, support, and capacity.
So, before partnering with a CSP, make sure to carefully comb through their Cloud Service Level Agreement (SLA).
A Cloud SLA will detail what the provider deems an urgent or critical problem. It will also detail the typical response time and the technician's availability to provide onsite support, and more.
Every provider has different response times and availability. That's why it's essential first to ensure that your needs and goals align with the type of service that CSP provides. 
For example, if a division of your business is experiencing a slow and lagging internet connection, that can affect office productivity.
An issue like that needs to be corrected by helpdesk support within 30 minutes to an hour because it's preventing a whole team of employees from working efficiently. Your business should not need to wait that long for an issue like that to be amended.
Additionally, your business needs to establish a transparent contractual partnership. Why?
Well, your business should be able to rely on its CSP to do the right thing. A legal, contractual agreement will act as a failsafe should anything go wrong.
3. What Are The Costs Associated With Their Cloud Services?  
While cost isn't the most critical factor, it plays a vital role in deciding which cloud service provider(s) you select.
The costs associated all depend on the services you need from a CSP.
Cloud services providers can recommend a SaaS product and implement it without managing your cloud environment. However, a cloud services provider can also be responsible for monitoring and managing your cloud and IT network.
For example, suppose you're receiving cloud-managed services, including management, monitoring, and support. In that case, you're looking at $100 to $150 per person per month. 
However, if you're only looking to buy cloud software from a provider and then have them deploy it, you would only pay the regular subscription rate of the software and any additional service fee the CSP charges.
The service fee will depend on the particular CSP's rate. 
But, a massive perk of managed services is the all-in-one experience you receive from the consultative partnership and helpdesk support to the software and hardware implementation.
4. What's Their Helpdesk Support Like? 
Another critical factor to keep in mind is the helpdesk support the cloud services provider offers.
For example, does the CSP provide remote support to log onto your network to solve an issue with you on the call? Do they also offer onsite support to help reinstall the software and fix whichever on-premises solutions you have?
It's essential to evaluate how hands-on your new CSP will be and if that aligns with the way your business works. 
Whether your business has some experience in IT or none at all doesn't matter. When acquiring cloud services, your business should be able to rely on the support and bedside manner of its CSP.
The mindset of the CSP should be focused on resolving problems from beginning to end and display a sincere desire to support their clients.
Ready To Choose The Right CSP For Your Business? 
If you're reading this article, you are ready to do the necessary research and make an educated decision about cloud services.
You can discern whether a particular CSP is suitable for your business needs and even your budget with the four factors outlined above.
Through acquiring the services of a CSP, you are signing off on a brand new partnership. This partnership will need trust, open conversations, and an invested interest from them to support your business in reaching its long-term goals.
In the end, a CSP will act as an extension of your company to help provide you with the support, monitoring, and management your business requires.
LDI's cloud services team recommends solutions to optimize our client's current cloud and IT environment.
Learn more about cloud services by reading our article on the four problems a cloud services provider can help solve.