The 4 Best Industries For Managed Print Services
Businesses of any industry can benefit from managed print services (MPS). Yet, particular industries can see even more improvement with MPS than others.
LDI Connect has provided managed print services to many industries looking to improve their print workflow and reduce their print costs.
That's why we're here to break down a list of industries that are the right fit for managed print services based on our experience.
This article will review the four best industries for managed print services. By the end of this article, you will better understand if your business aligns with managed print services and why.
Which 4 Industries Are The Perfect Fit For MPS?
MPS can help businesses improve efficiency, reduce print costs, lessen capital expenditure, improve information security, and much more.
Yet, how can MPS help your business in your industry?
Within each industry outlined below, you'll find a few commonalities regarding problems MPS can help solve within each sector.
These common problems include:
Data confidentiality
Workflow
Print Costs
Print Waste
Now that you know the different problems we'll tackle as we navigate each industry. Let's explore four sectors that would benefit from managing print services.
1. The Education Industry
Schools print thousands of documents and pieces of coursework every single day. Printing costs will vary from school to school.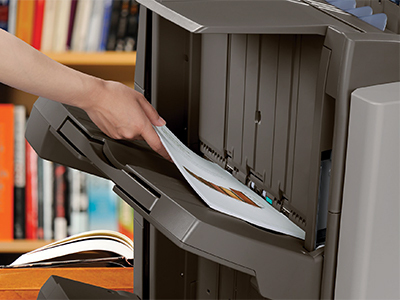 Most education facilities have maintained and facilitated printing processes themselves out of necessity.
Without a working knowledge of the equipment, it can be challenging to reduce costs, improve print workflow, and lessen paper waste.
If maintaining and managing the printers falls on the administrative staff or the school's IT department, you may be stretching your resources thin. This can lead to disruptions and delays due to a lack of staffing.
An MPS provider can be responsible for maintaining and overseeing your print environment, taking the burden off of your staff.
With MPS, your school can communicate its print struggles, needs, and goals to a managed print provider for them to customize print solutions to meet and exceed your requirements.
Let's look at how an MPS provider can tailor a print solution for you.
Suppose you're a principal of a co-ed high school that leases five multifunction printers. Your main struggle is paper waste and over-ordering print consumables like ink toner for your devices.
A managed print provider would first assess your device through a data tool like FMAudit. This tool will show the device's usage, the ink and toner levels of the device, and the health.
Then an MPS provider will help create a print strategy and recommend print solutions that can maintain the device's health, provide the required consumables, and reduce paper waste for good.
One solution may be to install a secure print application on each device. Through this application, users can only release a print job once they are physically at the machine by swiping their badge or entering a PIN.
Additionally, an MPS provider will put in place an auto-supply replenishment tool. This tool will re-order the correct supplies once it reads that your device's ink or toner levels are low.
Once you convey your needs with a managed print provider and your print environment is assessed, your print environment can see considerable improvements in workflow, along with a reduction in paper waste and print costs.
2. The Healthcare Industry
Within the healthcare industry, there are unique problems that managed print services can help solve. These unique problems include ensuring that patient records are kept confidential and that sharing documents between insurance providers is done seamlessly.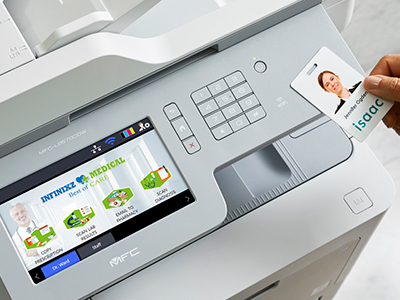 This is where managed print services can help.
MPS can help increase security and maintain patient confidentiality by evaluating your print environment for potential security risks, monitoring your print environment, installing app-based secure print programs on each device.
How exactly can secure print help?
Installing an app-based secure print feature on each device ensures that only authorized personnel can view and print particular documents. The secure print application makes it easier to avoid accidental errors and security risks moving forward.
Suppose you are a healthcare provider sending billing information, record transfers, or making copies of patient files. In that case, a secure print application will make it mandatory for a user to input their security code or swipe their security card to access or release a document to be printed properly.
But still, how exactly can managed print services help the healthcare industry?
With constant access to a managed print provider, your print environment will be actively monitored, routinely checked for hardware and software issues, and have access to helpdesk support both remote and onsite.
Additionally, once an MPS provider assesses the health of each printing device, they will analyze high-traffic areas and provide a report of under and over-utilized print devices.
From there, they can recommend which devices should be moved to another area of your facility. They can also recommend which devices should be switched with a newer version to improve workflow and reduce print costs.
With hospitals and the healthcare industry, managed print services can help add value to practices of all sizes.
3. The Legal Industry
Managed print services can improve device efficiency amongst your law firm's fleet of printers and copiers while reducing print costs.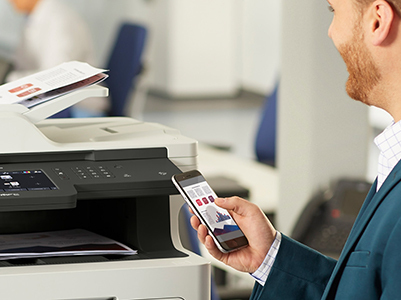 How? An MPS provider provides break-fix support, routine onsite maintenance checks, and helpdesk support.
Since managed print services are a single monthly fee, a law firm can establish a consistent budget around these services. This can ensure that malfunctioning or outdated devices do not cause extra expenditures.
By maintaining each device, managed print services can help law firms stay ahead of any printing issues, replace outdated devices, and look for opportunities to reduce costs.
4. The Financial Services Industry
Paperwork is at the crux of every transaction within the financial services industry.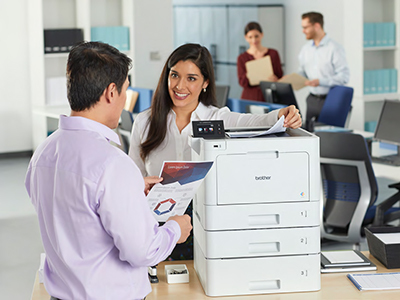 Even with e-sign and other electronic forms gaining traction within the finance industry and legal industry, physically printing a document or form is still necessary.
As with the other industries, there is a significant level of confidentiality to consider when it comes to printing within the financial services industry. Suppose printing devices are not managed correctly and fail to securely control or share consumer data. In that case, this can lead to industry fines and other potential issues down the line.
In addition, the bottom line must be considered within the financial services industry.
Managed print services can help financial services companies by providing them with a print audit that reviews current print costs by device and will recommend solutions to reduce print costs. 
MPS is an excellent fit for this sector because it can help solidify a strategy moving forward.
For example, suppose your financial services business is looking to become more financially and security-conscious.
An MPS provider will recommend print management software options like uniFLOW or PaperCut to help you print securely and responsibly.
These solutions can help administrators set up print policies on each device to minimize over-printing. They even offer secure print options like Follow-You printing to mitigate the risk of unauthorized personnel accessing or printing a confidential document.
So What About Your Business's Industry?  
Managed print services enable businesses to create a personalized printing solution that works for their particular needs within the demands of their specific industry.
MPS provides flexible printing solutions that can evolve as your business and industry do.
Suppose your team plans to print a lot more in the next quarter. In that case, your MPS provider can recommend print hardware and software solutions you need to help meet your needs without exceeding your budget.
At LDI Connect, our MPS team helps many clients in these industries optimize their print environment and reduce print costs.
To learn more about managed print services and how they can benefit your business, read our article on the five benefits of how managed print services can help your business.