What Should Good Managed Print Services Look Like? (5 Elements)
Managed Print | MPS | Print
So, your organization may be ready to optimize its print environment, boost its document output, and cut costs. But is your organization aware of what managed print services is and what it should provide? If not, that's okay.
The world of managed print can seem vast and complicated. From print, assessments to print management software, continuous print support, and re-evaluating your fleet of print devices, managed print services cover a lot of ground. But how can you tell what good managed print services even look like?
For over twenty years, LDI has provided managed print services to many clients interested in optimizing their print environment through user-friendly solutions.
We have worked closely with clients who have experienced bad managed print services from unresponsive technicians and untrained helpdesk support agents. We understand how hard it is to find good managed print services and work hard to understand your pain points regarding your print environment prior to helping them identify their print needs.
This article will paint a clear picture of what managed print services are and critical elements of managed print services. By the end of this article, you will not settle for subpar managed print services because you will know what to expect from a managed print provider.
What Is Managed Print Services?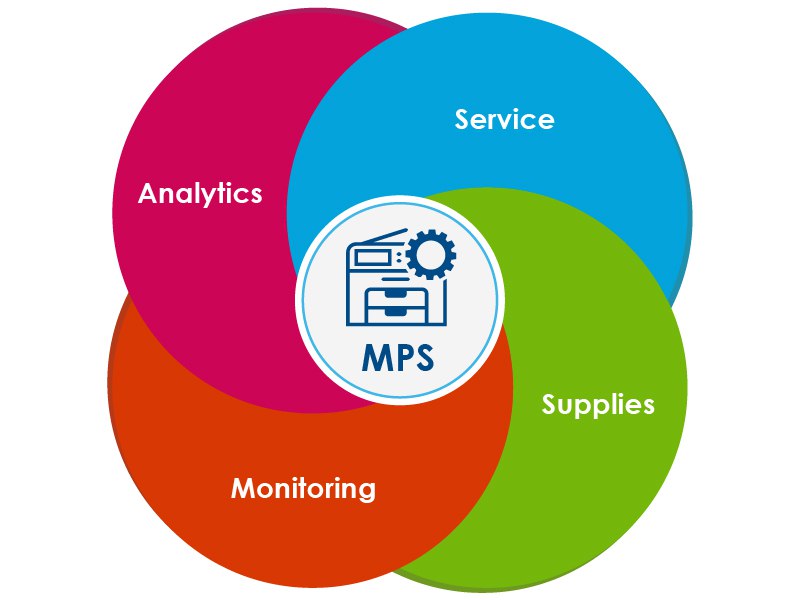 A managed print provider provides managed print services (MPS) to enhance and manage document output. These services incorporate various technologies and tools that allow companies to optimize their print environment.
For example, print tools such as print software applications can help manage your print behavior by tracking your company's device usage, user activity, printer inventory, costs, and more.
In addition, MPS includes help desk support and technicians that help resolve print issues, perform maintenance duties, repair, and develop an enhanced document workflow.
Most companies spend way too much on printing costs as a result of outdated machines, long-term habits, and a lot of data that gets unaccounted for. Managed Print Providers offer MPS to help companies address the concerns they have with their current print infrastructure.
5 Key Elements Of Good Managed Print Services
Good managed print services? What does that even mean?
Part of making a crucial decision regarding your print environment is rooted in understanding what your managed print services should help you achieve.
The chances are that if you are interested in getting managed print services, you know that your print environment can be improved in some way.
Every managed print provider may not offer the same print applications, tools, subscriptions, fees, and services. However, a way of discerning what good is when it comes to managed print is by what it helps you optimize, the quality and consistency of service, and the growth in awareness of your print environment.
Let's take a deep dive into five key elements that make for good managed print services.
1. Improves Document Workflow & Output
One of the key reasons to receive managed print services is to optimize your current document workflow and output.
Optimized document workflow and output essentially mean ensuring that employees can seamlessly print with no issues, print jobs securely, and utilize print tools and technologies that can make printing quick and efficient.
A good MPS service provider will include a free print assessment to evaluate your company's current environment and workflow. Often print options usually include print management software and even downsizing your current printer fleet to accommodate for an optimized print setup.
Managed print services should generate consistent reports that are detail-oriented and ensure that every part of your print infrastructure gets looked at and considered for improvement.
2. Reliable & Qualitative Helpdesk Support
Good managed print services include helpdesk support that is both remote and in-person from a trained technician. Technicians should be well equipped to answer a wide range of questions from beginner to advanced.
For example, let's say your company's multifunction device won't turn on. An experienced helpdesk support agent should be able to help you troubleshoot the device from your phone before an in-person visit. With detailed instructions and patience, technicians can save the user time they can spend on other pressing initiatives.
It's more than just answering the phone with a pleasant opening statement. Good managed print services should include:
Routine maintenance checks;

Helpful remote support;

Instruction documents;

Follow-up emails; and

Scheduled printer copier repair visits.
3.

Provides Concise Inventory Management
A massive perk of managed print services does not need to worry about inventory management.
A good MPS service will be dedicated to managing every aspect of your inventory.
By keeping track of your print devices and consumables like toner and maintenance kits, a good MPS service will be proactive about replenishing supplies and keeping you in the know of how much you're spending per page.
4. Integrated Cloud Applications
A good MPS service provider will ensure that your print devices are equipped with cloud-based applications for cloud printing, increased mobility, and optimized workflow.
Users will have the option to scan documents to the cloud.
Cloud printing will enable your employees to print from any internet-connected device by routing print jobs between your computer, smartphone, or tablet.
In addition, employees will not need to set up driver installations from their devices to find printers and print their job quickly. A good MPS service provider will understand the importance of integrating the cloud into your print environment.
5. Enhances Your Print Security
Good MPS service providers are well-versed in ways of ensuring that your company's print infrastructure is secure.
By taking the proper precautions to secure your print devices from data breaches and setting up user authentication methods like card access to release print jobs, a reliable managed print provider will care about each possible unsecured entry-point.
Good managed print services will involve learning about how your print devices have been protected in the past, assessing your current print security posture, identifying industry-specific capabilities, and ensuring that your company's print environment is secure.
Lastly, good MPS will help your company get clear about defining its security requirements moving forward. Managed print services are not just about handling one security issue and leaving it along.
Good MPS service providers will use the past to learn about what can be improved for the long haul.

Are You Ready For Managed Print Services?
Managed Print Services are for any business interested in getting on top of their printing costs and optimizing their print environment.
If you are content with your current print environment, what you're spending, and the quality of document output, then MPS may not be a good fit for you.

At LDI, our managed print division provides clients with print solutions that meet their current and future print needs. We have helped clients mitigate waste and cut costs while keeping their print devices and information secure.
To learn more about our managed print services, refer to our complimentary guide below.