How Can Managed Print Services Help Your Business? (5 Benefits)
Managed Print | MPS | Print
For most businesses, printing is a critical aspect of day-to-day operations. However, not every business approaches printing the same way. Nor does every business understand how to optimize its current print infrastructure.
Your company's print costs, document workflow and output, efficiency levels, and return on investment can all be heavily influenced by the print solution you choose.
Selecting a print solution that fits your company's needs and its employees can be hard to balance. As a managed print provider for over twenty years, LDI understands how detrimental an unmanaged print environment can be to a business. We provide a well-rounded managed print services program that helps assess, analyze, and create long-term solutions for your print environment.
This article will detail five significant benefits of using managed print services for your business. By the end of this article, you will have understood just how beneficial managed print services can be to optimizing your current print infrastructure.


What Are 5 Benefits of Managed Print Services (MPS)?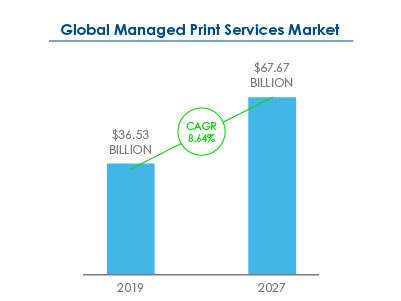 The global Managed Print Services Market is estimated to grow at a compound annual growth rate of 8.4 percent from 2019 to 2027. This statistic correlates with the increased need for managed print services in small to large businesses over the last couple of years.
Managed Print Services (MPS) continues to be a reliable print solution for companies looking to meet their business printing needs. Managed print providers provide MPS as a program to help customers manage all aspects of their print environment and devices.
While your print needs will vary from the next company, considering how MPS can benefit your company and your employees can be a critical step in deciding whether it's the right next step for you.
Let's break down five key benefits of Managed Print Services.
1. Helps Control Costs
First, MPS can be extraordinarily helpful in saving your business money. But, how?
Managed Print Services can come in many forms depending on the provider you choose to work with. But at the end of the day – every MPS program shares a common goal of helping you get control over your print environment and how much it costs.
An MPS program will usually start with a thorough print assessment. This assessment will evaluate your company's current print environment, behavior, and device usage. After this assessment, your managed print provider will analyze the data and determine how this is affecting your print costs.
Certain factors can lead to higher print costs. For example, let's say most of your printing devices are outdated. Outdated meaning that the manufacturer doesn't sell these machines anymore due to how old they are. Then this requires you to source particular toner and ink cartridges as well as parts to repair that isn't the most accessible due to how old the device is. Your outdated printing devices could lead you to spend a lot more on consumables and repairs.
Another factor that could lead to you spending more on printing is the amount of paper waste your team may create because they're printing accidentally or forgot they printed a document and chose to print another document to replace it.
Managed Print Services is meant to evaluate how your company currently prints to make calculated decisions about costs. Once the data is reviewed and assessed with you as the customer, a print strategy and plan of action can be put in place to reduce costs moving forward permanently.
2. Automates Supply Replenishment
Getting a handle on replenishing your print supplies can greatly impact your print costs and workflow.
By entering into an MPS program, your company will not need to order toner cartridges. Why? An MPS program can track each of your printing devices and automate ordering and shipping supplies when your devices are running low.
In addition, automatic supply replenishment will help eliminate downtime that employees would have spent trying to figure out the right type and amount of supplies to order for each device.
An influential MPS program is meant to take the burden off your employees while also helping you mitigate wasting print consumables.
3.

Streamlines Printer Fleet
A managed print services program will evaluate the current state of your printer fleet. It will consider whether your current printer placement is easily accessible for employees.
An essential part of the managed print services program involves streamlining one's printer fleet to optimize document workflow and output.
As mentioned earlier, an assessment will break down device usage, informing both the managed print provider and the customer of which employees are using what devices. From an assessment, the provider can analyze the data and recommend solutions that encourage the right-sizing of your fleet of printers.
This involves considering your current office layout and reducing the number of printer copiers that are outdated, unused, or unnecessary. If a printing device is overused, there may be a need for updating and replacing that device with a multifunctional device that can print at an optimal speed with higher quality.
4. Optimizes Print Security
Managed print services reduce security vulnerabilities by implementing security software applications and monitoring printing devices for cyber threats.
As more and more companies suffer the ramifications of an unexpected ransomware attack on their company, protecting confidential information from every endpoint on your network is imperative.
Suppose your business doesn't already use these security measures. In that case, an MSP program will implement the use of security keycards or pin-codes. Employee keycards are a reliable option to authenticate the release and retrieval of print jobs from a printing device
5. Provides Helpdesk Support & Quarterly Business Reviews
A Managed Print Services provider provides remote helpdesk support and onsite support when needed. This means that you can call or email your managed services provider whenever you have a question or concern regarding your print environment.
Call response times may vary from one to twenty-four hours, depending on your provider. However, ensuring that your provider's response time is in line with the service you require is vital for a transparent partnership from the onset.
Along with responsive and knowledgeable helpdesk support, quarterly business reviews help both you and your provider stay on target regarding your print goals.
While not every MPS program provides quarterly business reviews, QBRs exude a provider's level of commitment to their customer. A QBR essentially serves as a forecast discussion between the provider and customer, including a thorough review of the previous quarter's highs and lows and other details.
During a QBR, the managed print provider can go over the client's current print needs and focus on goals for the next quarter.
Additionally, a productive QBR will review and highlight any factors that are either doing well or improved. Overall, a quarterly business review can help both the provider and customer gain insight into what was optimized, what still needs attention and reasonable print goals for the next quarter.
This will ensure that both parties are on the same page regarding the managed print services provided.

What's Next? Ready To Implement Managed Print Services?
Managed Print Services can be tailored to your company's exact needs. Let's say your company is not comfortably re-evaluating its print environment but requires routine onsite maintenance checks. Your managed print provider of choice should be able to meet those particular needs regardless of you not needing the whole program.
Now, suppose your company requires assistance cutting print costs and optimizing document workflow. In that case, your company may benefit from enrolling in the whole managed print services program.
At LDI, we have worked with various customers, assessing their current environment to make impactful changes that could help benefit them long-term. Learn more about what good managed print services should look like.