Cloud Communications
Collaboration platforms to transform your business with scalable space to run your applications, store and backup your big data.
Watch this video to learn more about Cloud Communications:
Watch this video to learn more about the Yealink T54W phone:


LDI ELEVATE is an easy-to-use cloud-based unified communications solution that helps companies and organizations to be more productive and collaborative. LDI ELEVATE seamlessly integrates all your communication tools – desktop phones, mobile phones, and computers – into one manageable solution oriented around your employee's needs and workstyles. It includes a full-featured phone system combined with chat, web/video conferencing, file collaboration and backup capabilities.
LDI ELEVATE:
• is compatible with most operating systems and smart devices, virtually enabling communication with integrated chat, video conferencing, screen sharing, file sharing, and file backup, anywhere and anytime.
• transcribes voicemail messages to text and/or email, allowing for more efficient voicemail
• centralizes conference bridge and HD videoconferencing capabilities with unique phone numbers and customized URLs for up to 50 simultaneous conferences and up to 200 attendees with full host controls.
• enables calls and meetings to be recorded for downloading, reviewing and reduces infrastructure and operating costs, consolidates voice and data onto one network with redundancy and includes over 100+ enterprise-grade calling features.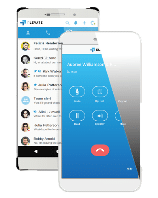 LDI ELEVATE MOBILE transforms your phone into an essential collaboration tool, making teamwork on-the-go easier than ever. See who is available, chat with colleagues, and manage voicemails – anytime, anywhere.
• Extend your business phone number and extension to your mobile phone, so you can place and receive calls on-the-go or even transfer calls from your desktop phone to your mobile device – seamlessly, without interruption.
• Your full desktop chat history is synchronized with your mobile device so you can stay connected and continue conversations no matter where you are.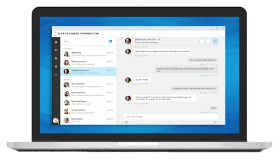 LDI ELEVATE DESKTOP brings essential collaboration tools together so employees can see who is available, chat with colleagues, place and receive calls, share screens, start video calls and share files – all from one application.
• Have the flexibility to use your desktop application to place and receive calls in two ways, either as a call controller for your associated desk phone or as a softphone from your PC or Mac.
• One place to see the availability of coworkers, place a phone call, start team chat and launch a video conference.
• With the Elevate UC desktop and mobile applications, you take your contacts, files, and conversations with you – wherever you are.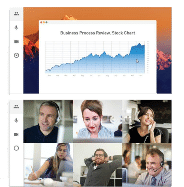 LDI ELEVATE MEETING & VIDEOCONFERENCING includes an easy-to-use, reliable meeting and video collaboration.
• HD video conferencing eliminates unnecessary travel and empowers teams with remote members to be more productive.
• The computer desktop can be shared with team members in realtime, improving collaboration and speed of decision making.
• The app includes a conference dial-in number, and customized URLs for meetings.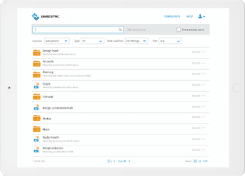 LDI ELEVATE FILE SHARING & SECURITY enables file sync and sharing with backup for desktops, mobile devices, and file servers. It also includes:
• the most current version of files from any device.
• easy and secure file sharing.
• integration with Windows File Server, Exchange, Outlook, Active Directory, Office, and Office 365
• full control over files, users, devices and sharing activities.