Inkjet Vs. Laser Printer: 4 Differences To Consider For Your Business
Office Copiers, Printers, and MFPs | Printers
Migrating or completely changing your business technology can be difficult, especially when you have an organization to run.
Is your business in the market for a new office printer but unsure whether to go with an inkjet printer versus a laser printer? No problem!
We're here to help educate you on the best printer to fulfill your business's printing needs.
Selecting an office printer for your day-to-day printing needs isn't just about choosing the one with the lowest price tag or the most features. The underlying technology such as ink and print head technology that exists within your office printer matters more.
At LDI, we provide both inkjet and laser office printers for businesses in the market to lease or own a printing device. When deciding on either type of printer, we recommend a print solution based on the type of print jobs your office will regularly complete.
This article will define what an inkjet printer and laser printer are. We will then discuss the key differences that will help inform you of the best printer to use for your printing needs. By the end of this article, you'll have a better understanding of which device is a better fit for your business.
What Is An Inkjet Printer? 
The inkjet printer can recreate images and characters by spraying tiny ink droplets onto paper as the primary function. Inkjet printing is done in a controlled way through a non-contact process between an external signal and the printhead.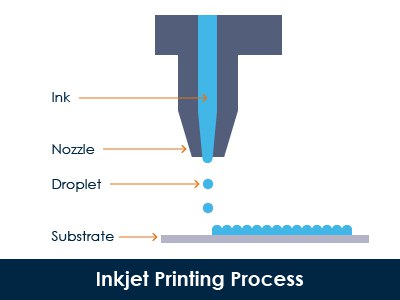 The print head consists of several tiny nozzles within the inkjet printing mechanism, also known as jets.
As soon as the paper moves past the print head, the nozzles or jets spray the ink onto it. This process then forms the particular characters and images being printed.
While they are a popular choice for your home printing needs, they can also be used in an office setting.
What Is A Laser Printer? 
The laser printer melts toner powder onto paper to print as it's the primary function.
Laser printing produces text and graphics via the repeated passing of a laser beam back and forth over a selenium-coated cylinder, also known as a drum.
For example, when a document is sent to a laser printer for printing, a laser beam draws the paper on the drum by using electrical changes.
What Are 4 Major Differences? 
Now that we've gone over what each printing device is and how it operates, let's take a closer look at the four main differences between inkjet and laser printers so that you can make your next buying decision with confidence.
Here are the four key differences between both devices.
1. Print Resolution & Quality 
While color laser printers are great for everyday color printing, a photo inkjet printer may be a better fit if your business needs professional high-resolution photos.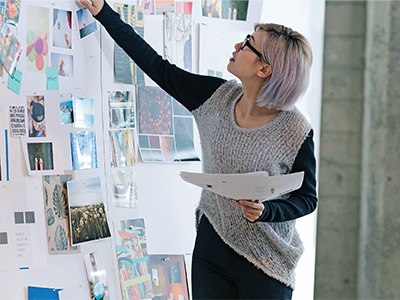 Why?
Well, high-quality photo inkjets are specifically engineered to recreate vividly detailed photos.
For example, suppose you are a photography studio or a marketing agency in pursuit of a new printing device. In that case, you may need a printer with tonal variety and deeper blacks to produce high-resolution photos via print.
A photo inkjet printer could help your mirror the image taken on camera and produce it as a print. 
Photo inkjet printers require pigment-based ink, which is more fade-resistant. This helps bring variety to the different art paper types and sizes you can use.
All in all, if your business is looking to print super vivid, high-resolution prints, looking for a good photo inkjet printer that can print high-resolution images is the way to go.
2. Print Speed & Volume
For print speed, laser printers are engineered to print anywhere from 15 to 100 pages per minute (ppm).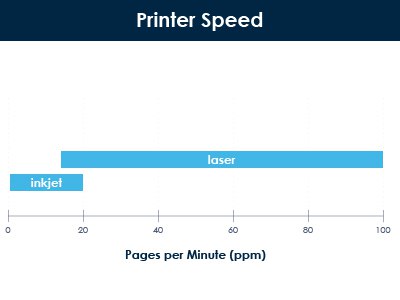 On the other hand, inkjet printers print at a slower speed at about 1 to 20 ppm.
Of course, the ppm can vary depending on the brand of printer you're working with. However, these ranges fit the mold for most printers out there.
Seeing as laser printers have a faster print speed, they can produce a higher volume of documents at a given time than an inkjet printer can.
The print speed affects the volume of printed output.
So if your business needs to print large amounts of documents regularly quickly, try opting for a laser printer to meet your high volume print requirements.
3. Your Operating System Is Vulnerable To Security Risks  
For those unsure of what page yield means, let's break it down.
Page yield means the approximate number of pages a user can print with one toner or ink cartridge before it needs to be replaced.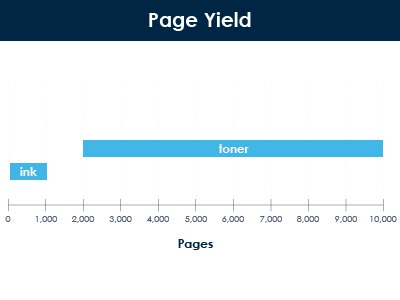 Toner cartridges can print an exponentially higher page yield than ink cartridges. Therefore, toners usually last longer than ink cartridges do.
Ink cartridges typically contain an ink volume that can print roughly 135 to about 1000 pages. While toner cartridge page yields usually range from 2,000 to 10,000 and beyond.
Seeing as a laser printer uses toner and inkjet printer depends on ink cartridges, this is a crucial difference to consider if you require a device with a higher page yield.
So suppose your business requires a higher page yield where you won't have to replace your toner cartridge often. A laser printer may be the better choice.
4. Price Of Device

.
Overall, inkjet printers tend to be cheaper and smaller than laser printers.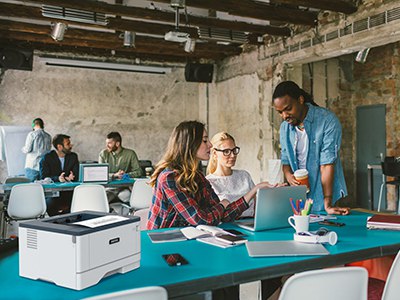 Laser printers are typically more expensive than inkjet printers upfront and require pricey toner cartridges to print.
Be wary of spending money on cheaper inkjet printers, as those will end up breaking quicker and costing you a lot later down the line.
Although laser printers are more costly, they are still viewed as an economical option for long-term use because they have a lower cost per page, faster print speeds, and higher page yield.
The cost per page is the best way to tell how cost-efficient your printer is. To easily calculate your cartridge's cost per page, try dividing your cartridge's prices by its estimated page yield.
Suppose you're working with a managed print provider or third-party outsourcing organization. In that case, you can easily ask them what the cost per page is for the device you're interested in leasing or purchasing as well.
Suppose the price of toner or ink cartridge is too expensive for you at this moment. In that case, you can consider cartridge affordable alternatives that will affect your general cost per page.
Which Printer Is Better For Your Business?
Selecting the suitable print device for your business depends on what you're printing, how much you're printing, and how much you're willing to pay.
Suppose your business looks to print small, image-heavy documents, like high-res photographs. An inkjet printer may be the better fit for you.
But, if you're searching for a printer that can handle a high volume of text-based documents, a laser printer is the more efficient choice.
Additionally, you're not just selecting a printing device to complete print jobs now. It makes sense to consider how this device will run down the line.
LDI has worked in the print space for over twenty years. We are confident that we can help answer any print-related questions your business has.
To learn more about optimizing print workflow and office productivity, read our article on the five signs it's time to optimize your printer fleet.