6 Questions To Ask When Shopping For An Office Multifunction Device
Office Copiers, Printers, and MFPs | Print
Businesses of all sizes, no matter the industry, can benefit from using a multifunction device. But we understand how confusing it can be to choose the right one for your business's particular operations, needs, and goals.
In addition, not everyone understands what a multifunction printer is and refers to it as an "office copier," "printer," "photocopier," and an array of other names to describe it.
At LDI Connect, we offer a range of office copiers, printers, and MFDs to choose from. While we've helped several clients find the right printing device for their needs, we've seen how confusing it can be to navigate which device to get when there are several options to choose from.
In this article, we'll break down what a multifunction printer is and the six questions to consider asking before choosing an MFP for your business. By the end of this article, your business will know how to select the right MFP for your business's needs.
What Is A Multifunction Device (MFD)?
A multifunction printer or MFD is an all-in-one device with print, copy, scan, fax, sort, and email capability.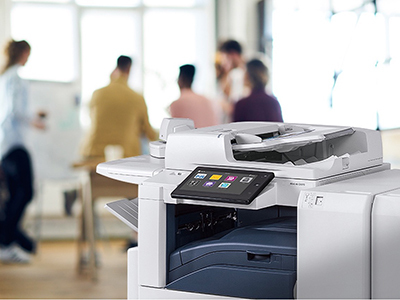 While MFDs are ideal for printing multiple pages at one time, binding, and sorting, they're also an excellent choice for heavy document production.
In addition, if your business is interested in going paperless, an MFD can successfully:
Print directly from the cloud.
Search, store, and share documents.
Route documents for stapling and hole punching.
So, how do you know what type of MFD to purchase? This will depend upon your business's particular print needs and goals.
6 Questions To Ask When Looking For A New MFD
It is essential to know which questions to ask when looking for a suitable device for your business. There are many models to consider.
Let's dive into six particular questions to ask your business before choosing a new printing device.
1. What's My Business's Print Volume?
Before deciding which brand or style of device your company is interested in acquiring, it's essential to understand how much your business is printing each month. Why?
Well, your company's print volume will determine the technical details like print speed and the service life of your copier. This information can save you from excessive time waste and unnecessary repairs later.
Speak with the independent copier dealer or manufacturer of your choice for them to properly assess your print environment to understand how much your business prints monthly.
Additionally, most service agreements, which go hand‐in‐hand with the purchase or lease, are based on an allowance of a certain quantity of copies or prints per month.
The independent copier dealer or manufacturer you work with can provide access to an online dashboard that will help you keep track of the number of prints, print activity, supplies status, and service history associated with each of your devices.
To understand how the print volume correlates with a particular device, take a look at the numbers below:
Low-End Business MFD
This device can generate 10,000 pages monthly.
Mid-Range Business MFD
This device can generate a range of 15,000 to 75,000 pages monthly.
High-End Business MFD
This device generates a range of 90,000 to 300,000 pages monthly.

2. How Fast Should The MFD Be Able To Print?
When it comes to the speed of an MFD, the measurement considered is known as prints per minute (ppm). Your business must determine how many print jobs your office team will make on an ongoing basis.
Think of it this way – the faster the device, the less downtime waiting for a print job to be completed.
Yet, if your business prints a few pages a day, you may not care about how fast your MFD can operate.
But suppose your organization has several employees printing or copying over a thousand pages per day. In that case, the printing delay can accumulate quickly and cause problems.
Let's look at the pages per minute for each type of MFD. Keep in mind that the speeds outlined below do not consider printing double-sided, stapling, and sorting.
Low‐End Business MFD
This device can create 35 ppm.
Mid‐Range Business MFD
This device can create 35 to 60 ppm.
High‐End Business MFD
This device can create 60 to 100+ ppm.
3. Does My Organization Need A Color MFD?
That depends. Is your business a marketing agency that requires critical color features to ensure that the color of each print job is perfectly calibrated?
If the answer is yes, then yes, you require an MFD that can print in color and mono (black and white).
The same thing goes for any organization looking to create prints that are more visually appealing and require their printed color to be spot-on.
Taking a proactive and honest approach in evaluating what your organization prints and how it can improve will help you choose the best device for your needs going forward.
To learn more about different printers and how they can enhance visual quality, refer to the blog article below:
Inkjet Vs. Laser Printer: 4 Differences To Consider For Your Business
4. What Size MFD Should My Business Get?
Good question! We recommend that whatever size you're looking for, make sure that you have the space for it. It might seem like a simple concept, but you'd be surprised how often this notion gets overlooked.
The MFD will need a designated space that is large, tidy, and clean in order for it to function correctly. It's best to have between 20" to 24" inches of clearance space on each side of the device to open paper trays, remove paper jams, and avoid overheating.
To remove long cartridges and toners, having an average clearance of at least 30" is recommended.
Other than that, the size of the MFD doesn't affect how it functions. The size is there to accommodate all of the features that are integrated within the device.
So, ensuring that you have the space required to fit your device is imperative.
5. How Much Is My Business Looking To Spend?
Before making any investment, it's crucial to consider your budget.
Choosing a multifunction printer makes sense for several businesses because it involves copy, print, scan, fax, and color. But, other companies may not be ready to commit to the price of an MFD.
Multifunction devices range from $2,000 to $35,000. Now every brand of the device varies with their pricing per device.
However, now that you're aware of the price range, your business can decide if this range is doable.
6. Should I Try The Device Before I Lease Or Buy?
Without a doubt, the answer is yes.
MFDs are a significant investment. Now, if these devices are well-maintained and cared for, you can use an MFD for many years to come.
But before you select a device, we suggest you ask for an in-person demonstration of the printing device you wish to lease or purchase.
Through an in-person demonstration, your team can practice using the device, complete a print job, and learn the different functions of the device with the help of an expert.
Whether you choose to work with an independent copier dealer or manufacturer, make sure that they can walk you through the operations you will likely carry out through your MFD daily.
From there, your business can easily understand and use the functions of the MFD that will meet your particular needs.
Ready To Invest In A New Multifunction Device?
Suppose your business is already looking for a new office multifunction printer. In that case, it always helps to be prepared before you enter the showroom and start considering specific devices.
As an independent copier dealer for over twenty years, LDI Connect works closely with clients to ensure that the device they choose for their business serves their needs for years to come.
To learn more about what it's like to work with an independent copier dealer versus a manufacturer, read our article: Independent Copier Dealer Vs. Manufacturer: Which Is Better To Work With.