The Top 3 Multifunction Printers For Business In 2021
Office Copiers | Office Copiers, Printers, and MFPs | Print | Printers
A multifunction printer is a vital component of any workplace. Today's printing devices are sophisticated and embody more than one functionality, making them a perfect choice for businesses looking to optimize their print environment, productivity levels, and document output.
With a number of brands and models adding advanced features such as remote printing and Wi-Fi connectivity; it can be challenging to sort through various options.
As a managed services provider, LDI works with customers to identify what they want to achieve with their print environment. Once we have discovered your current printing needs, concerns, and plans, we sort through our catalog of devices to recommend the best solution for your business.
This article will break down what makes for a top-performing or best-in-class multifunction printer. It will also inform you of the top three multifunction printers we recommend for their reliability, durability, and high-quality output. After reading this article, you will have a better idea of why we label particular devices best-in-class.
What Makes A Multifunction Printer (MFP) Best-In-Class?
In the world of multifunction printers, also known as all-in-one printers, titles such as "best-in-class" or "top-performing" refer to the overall technology the printer copier delivers. A multifunction printer possesses printing, copying, scanning, and faxing capabilities with wireless options.
However, with all technology, it all comes down to how it performs day-to-day and whether it's a functioning product from model to model or version to version.
A multifunction printer that provides reliable functionality over time is what makes a product best in class. Any all-in-one device can have a great new feature that makes it more appealing from the onset, but are those features holding up over time?
While your company's print needs are unique to your environment and industry, there are key features that every top-performing MFP should include.
Some key features to consider are print speed, paper capacity, scanning functionality, graphic specs, internal memory, and wireless printing capabilities. While your business may care about one or two features over the others, it's essential to be aware of features that can make or break your buying decision.
What Are The 3 Best-In-Class Multifunction Printers Of 2021?
While it may take some time to identify which multifunction printer best suits your business, it's imperative to assess your print needs before choosing a product.
To help you narrow down your search, we compiled a list of the top three multifunction printers that have proven to be durable, reliable, and produce high-quality print jobs.
Here are the three key players in 2021.
1. Canon's Image Runner DX Series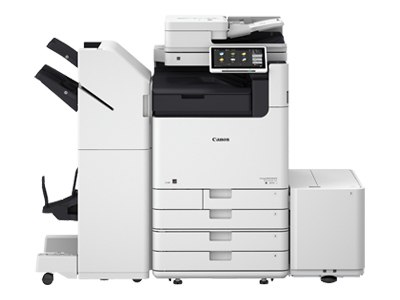 Canon's Image Runner DX Series is by far the best multifunction printer out of all manufacturer's offerings. What makes the Image Runner DX series a top contender is its stellar operating system.
When running an organization, you don't want an operating system with weak points or flaws; this will cause your employee's pressing initiatives to get delayed and negatively impact your business.
With Cannon being the first to introduce a multifunctional embedded application platform (MEAP) to the industry, this series is a testament to Cannon's evolution as a manufacturer. Unlike most other MFPs that require web services to act as a computer with a browser, Canon's operating system handles a good number of task performances.
Other Notable Features:
This series also offers state-of-the-art features such as an intuitive touchscreen with user-friendly smartphone characteristics, Google Drive support, scanning and conversion capabilities, third-party software integration, and more.
Every product within the Image Runner DX Series can effectively cache data, maintain network security and hold onto cached data in order to recognize the user's name, icon, and history of tasks. Canon's Image Runner DX series is also incredibly fast and responsive, whereas other MFPS require a bit of lag time to load and complete a print job.
The Image Runner DX Series smallest device to its largest provides seamless continuity which makes this product family best-in-class.
2. Sharp's MX 7580N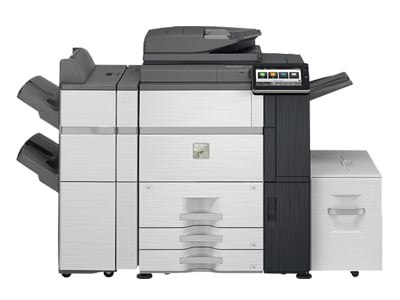 There's nothing worse than using an overly complicated device.
The MX 7580N is a part of Sharp's advanced series with an interface that is clear, simple, and provides a user-friendly experience. Every device within this series delivers a simplistic User Experience (UX), making it easier to operate than other MFPs you may find from another manufacturer.
In addition, Sharp's MX 7580N engine and scanning components make this product best-in-class due to its agility, durability, and reliability.
Other Notable Features:
The MX 7580N offers a next-generation Color Consistency System for high-quality color output, a high-performance print controller, high-resolution graphic specs, and more.
Sharp was the first to incorporate print security, dual-sided scanning, an integrated keyboard, and a truly open operating system onto their multifunctional printer. An available operating system makes for a customizable experience when using print management software applications on an MFP.
Sharp has been able to perfect its MFP products and build on its success from series to series.
3.

HP's Laserjet Managed Flow MFP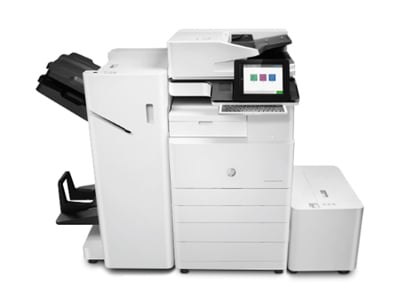 HP's Color Laserjet Managed Flow is more than an MFP. The Color Laserjet acts as an endpoint on your network that needs to be managed as such. The tools this device provides from a security and firmware management standpoint truly make it stand out.
HP's embedded security manager performs security checks and repairs itself from attempted hacks proactively. It's able to assess the issue and remedy those problems without human intervention.
This MFP allows the user to create tasks that update, track, and monitor endpoint vulnerabilities. HP's Color Laserjet Managed Flow MFP has a clean, sleek, and modern aesthetic.
Additionally, Its heavy-duty, durable scanner with its integrated keyboard makes this device a work of art. Its integrated keyboard and interface are designed mainly for using the applications held in hand, not something to stand in front of.
HP eliminated several parts that you would otherwise find in a traditional printer copier for the Color Laserjet. Instead, they released maintenance kits that replace multiple components that enable more use of the device over time.
Other Notable Features:
Aside from its incredible security features, The Color Laserjet Managed Flow MFP also provides a print premium that guarantees professional-quality document output, loading capabilities of 250 pages and up, modular accessories, and more.
This MFP is a part of HP's next generation of devices meant to empower productivity in the workplace while also delivering some of the most robust security capabilities in the market.
This MFP is a part of HP's next generation of devices meant to empower productivity in the workplace while also delivering some of the strongest security capabilities in the market.
Ready To Find The Right Multifunction Printer For Your Business?
Choosing what's most important to your business is vital in the decision-making process.
Whether it's affordability, a user-friendly interface, robust security, or all of the above, ensuring that your team is on the same page before working with an independent dealer or the manufacturer is critical.
LDI works with clients to map out what they would like to achieve with their new multifunction printer. LDI offers the top three multifunction printers listed above and recommends print solutions based on a complimentary print assessment which acts as a thorough evaluation of your company's current print environment.
Speak with an LDI representative today to find the right MFP for your business.